[ad_1]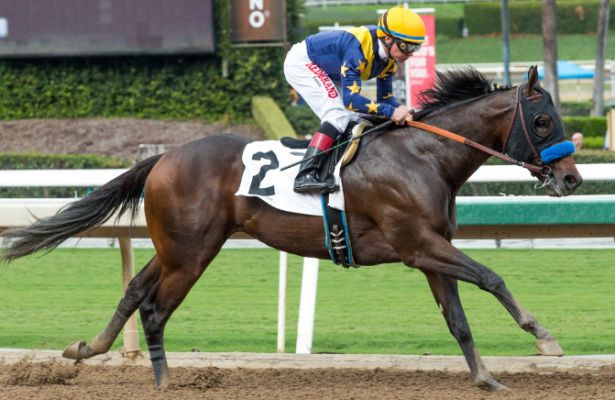 Photo: Zoe Metz Photography

Lost
in the shuffle of the Breeders' Cup, a nice-looking 2-year-old named Cruel Intention won the $200,000 Golden State Juvenile last weekend at Santa Anita.
The son of Smiling Tiger sports some powerful names behind him, including
trainer Bob Baffert and the ownership group of Jungle Racing LLC (which
involves sports personality Jim Rome), LNJ Foxwoods and the youth-oriented
Nexus Racing Club.
I believe that for Nexus Racing, Cruel Intention can provide the group with their first graded stakes
winner, and for two main reasons. The way he
won Saturday at Santa Anita PArk race and the speed figure earned both hint at a bright future.
As a side note, California Chrome failed to hit the board in the 2013 Golden State Juvenile before going on to capture two-thirds of the Triple Crown the following spring. 
But how far can Cruel Intention go? That is one question to answer after a overview of the race chart for his big win.  
Cruel Intention technically only won the seven-furlong race by a neck, but that
is because he faced a talented horse in Galilean, trained by Jerry Hollendorfer.
The third-place horse, Luck's Royal Flush, finished 16 lengths behind Cruel Intention
and Galilean, and 19 lengths separated the second-to-last Oliver and Whooping
Jay. Over 40 lengths separated first-place and last, which is a good sign of quality for
winners on dirt.
When horses finish in a clustered group on dirt, red flags should go off in a
handicapper's mind because quality dirt racing promotes a thinned-out field.
Big margins help prove the winner ran fast, otherwise the field would keep up.
ruel Intention earned a 114 TimeformUS Speed Figure
and 90 Beyer Speed Figure. The former number is significant because it is higher
than the 112 Game Winner earned in the Breeders' Cup Juvenile. Comparing sprint
and route numbers is not the wisest practice, though, as horses change with
distance.
On the TimeformUS scale, the 90 Beyer roughly translates into a 110, so
TimeformUS rates Cruel Intention about four points higher. The difference is likely due to pace.
Cruel Intention also won his career debut by more than five lengths with a mild 101 TimeformUS Speed Figure. For a horse making his first start, that is not bad.
Before his maiden win, he actually caught the eye of XBTV as he earned a "Best of
the Morning" workout on Oct. 6, when he devoured his workmate Lord Simba. The most recent video on Oct. 29 looks good, too, as his workmate Reedley seemed completely spent after the drill. In contrast, Cruel Intention kept going in a strong gallop out. 
So, as with many high-quality Baffert runners, Cruel Intention trains well.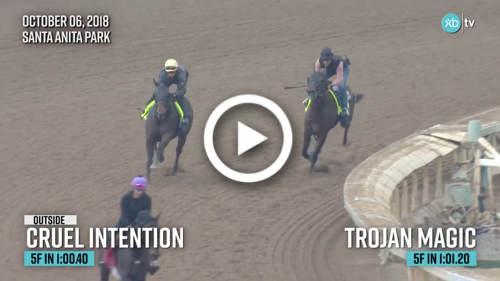 The only real concern with this horse, if the connections want to stretch
out, is pedigree. On paper, it appears his blood features sprint influences on
both sides.
Cruel Intention's sire, Smiling Tiger, spent his entire career sprinting, as his
Grade 1 victories came in notable sprint races such as the Bing Crosby Stakes,
Ancient Title Stakes and Triple Bend Handicap. A quick glance at stallion register also reveals Smiling Tiger's current top performers are
sprinters.
The bottom side does not help either, as his full sister Spiced Perfection
mainly runs as a sprinter under trainer Brian Koriner. She broke her maiden in
a five-furlong dirt sprint at Del Mar last year, and her three wins since then
came sprinting. She is still active. 
It is notable Spiced Perfection finished a good second in the Melair Stakes, a
1 1/16-mile race at Santa Anita, last June. She even held the lead in the stretch before
losing it late to a closer. Maybe that provides some hope for Cruel Intention to
stretch out.
Furthermore, horses do not always follow pedigree rules.
Baffert's own 2015 Triple Crown champion American Pharoah arguably showcased a
sprinter pedigree on the bottom, and it did not seem to matter as he capped off
his already magical career successfully in the Breeders' Cup Classic.
To give an active example, the third-place Kentucky Derby finisher Audible seems to
excel in routes despite his sire Into Mischief, who most people label as a
sprinter/miler influence. Audible's dam side does not offer any strong routing
clues, either. Yet, the way he conserves energy in a route signals a dedicated
router, despite Into Mischief.
In most of these cases, there is one side of the bloodlines that offers clear
signals for going long, and that side will offset any sprinter influence. Unfortunately, Cruel Intention does not show a routing side, but other pedigree analysts could argue against that. 
Cruel Intention is talented, though, and the fact he is a Cal-bred should not
deter bettors from considering him if he steps outside of restricted company.
For what it is worth, William Hill U.S. currently offers 50-1 odds on Cruel
Intention for the 2019 Kentucky Derby.
Whether it comes in a sprint or route, it seems clear that Cruel Intention
is on the path to some kind of graded stakes victory soon. The horse is fast with
strong connections, so he should pose a serious threat going forward, as will the runner-up Galilean.


[ad_2]

Article Source