[ad_1]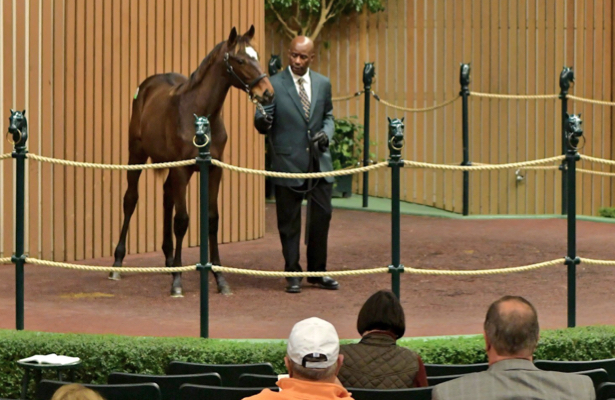 Photo: Courtesy of Keeneland

Hip 28, a Tapit filly and half-sister of champion Arrogate, set the bar early in Monday's Keeneland November Breeding Stock Sale by selling as a $750,000 weanling to Clearsky Farms.

She's out of the Distorted Humor mare Bubbler, who also produced stakes winner Osare, winner of Kentucky Downs' Dueling Grounds Derby back in September.
Hill 'n' Dale purchased half the mare when she was in foal and consigned Hip 28. Clearsky, also Arrogate's breeder, ensured full interest in the weanling Monday.
"We've been really happy with pretty much everything she's produced so far," said Clearsky's Bernard Cleary. "Obviously, we've sold half of her, but trust that was the right decision because we believe in the mare quite a bit and we're hoping we can produce some more brilliant horses.
"Since Arrogate, Osare has come along, who's now a stakes winner. We're excited to keep this filly."
Of course, in a whirlwind four-race span, Arrogate swept the Travers Stakes, Breeders' Cup Classic, Pegasus World Cup and Dubai World Cup. He retired last year to stud at Juddmonte Farms as the world's highest-earning horse.
From this family on the rise, Osare hammered as a $300,000 yearling. Arrogate cost $560,000 as a yearling.
"I think she's pretty different," Cleary said of his new purchase. "Maybe a little bit immature right now, but hopefully she'll make a nice yearling, so we're excited."
Cleary said a decision will be made later to keep the filly to race or sell. A current 2-year-old out of Bubbler and by Giant's Causeway could further add to her value.
"I'm not that surprised," he said of the purchase price, "because at the end of the day she's a half-sister to one of the better horses we've seen in recent times. Even as a broodmare she's got some residual value, so it doesn't surprise me that much."


[ad_2]

Article Source