[ad_1]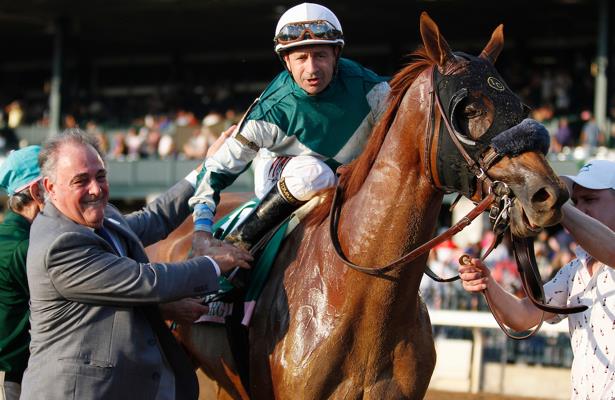 For Argentina native Ignacio Correas IV, training at the top level — again — has been nearly two decades in the making since his move to the United States.
Having started his own stable here in 2015, and teamed with Merriebelle Stable's mare Blue Prize, Correas is now headed for the Breeders' Cup Distaff following his first North American Grade 1 score in Keeneland's Spinster (G1).

"It's special. Every Grade 1 win is special. But this one in particular was," Correas said this week.
Like Correas, Blue Prize began her career in Argentina, winning at the Group 1 level before making her way to America. 

Correas made his move years earlier, in 2001, and worked as an assistant trainer. He first went to Belmont Park with trainer Billy Badgett, spent a short time at Keeneland with David Banks, and worked about five and a half years in Southern California for Bill Curran. Correas later moved to Sagamore Farm in Maryland before going out on his own again.
In short, he put in his dues after running a top stable at home, then making the move to the U.S. seeking a better life. Now, Keeneland is like home, and that Blue Prize was able to improve upon last year's third-place Spinster finish?

"Everything that we dreamed of came true," Correas said.
He added of the Lexington, Ky., track: "It's a great environment. We have two great meets. We have a great turf surface, a great dirt surface and a polytrack. The barns are great. There's nothing not to like."

Blue Prize will remain at Keeneland until the just before the deadline to ship in for Breeders' Cup Saturday races, Oct. 31. Churchill Downs plays host to the championships this year over a track where Correas won't have to worry about the 5-year-old mare taking a liking.

From five starts under the Twin Spires, Blue Prize has won three of those races and was second in the other two. Her victories include the Falls City Handicap (G2), her first win in North America last Thanksgiving Day; the Fleur de Lis Handicap (G2), in which she earned an automatic berth into the Distaff; and the Locust Grove (G3). 

The last two victories at Churchill Downs preceded Blue Prize's Spinster victory Oct. 7 at Keeneland, extending her win streak to three.

"We always knew that she had potential," Correas said. "When she ran her second race – she hadn't won a race yet (in North America) – we talked with the owner and told them she's probably going to be a Grade 3, Grade 2 (winner).
"Grade 1 – you have to respect a Grade 1 – and she did it."

Blue Prize made her first start for Correas in June 2017, running second four times and third in the Spinster before capping off the year in the Falls City. She has a consistent record of 16:7-7-1 with $964,753 in earnings.

She'll face her toughest competition in the Distaff against multiple Grade 1 winners Abel Tasman, Monomoy Girl and Midnight Bisou. Regardless of the result, she's proven to her connections.

"She wins. That makes her special. There's not many horses that win that much," Correas said. "She always tries very hard. She's a hard-trying mare."


[ad_2]

Article Source