[ad_1]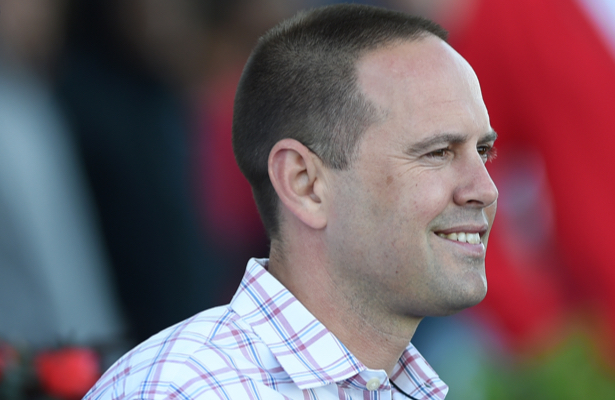 Photo: Lauren King/Gulfstream Park

Chad Brown bested his own previous record for wins by a trainer in a single Saratoga meet when Spirit Animal, ridden by Hall of Famer Javier Castellano, captured Race 6 on Saturday, marking his 41st victory.
Brown, who won 40 races in capturing the 2016 training title, had shared the single-meet wins record with Todd Pletcher, who also won 40 in 2017. The Mechanicville, New York native has already clinched his second career Saratoga training title (and second in the last three meets), entering Saturday with more than double the wins of his next closest competitor in Pletcher with the meet concluding on Monday, Labor Day.
"It was a goal, whether it happened this season or another season, to hold that record for most wins," Brown said. "In this game, you're really judged by winning. It's been a magical meet for us. We've had so much good fortune and so much support. The most rewarding thing is the chemistry in the morning between all the moving parts; everyone executing their jobs. The horses showing up and running so well and so consistently. NYRA has put on an excellent meet as well.

"I know there's been some challenging parts of the meet with weather, and we've been able to dodge it within our own stable. They've done a good job of providing good [races] on turf and dirt to run on, and our horses are running well.
"It's typical of the Saratoga meet," he added on Spirit Animal's win. "You have to work for every win no matter what your odds are. You're prepared, [but] there's a lot of people prepared and every win is really hard. It makes it even more meaningful to win this many races in a meet like this, knowing how difficult it is."
Brown, the New York Racing's Association's leading trainer for the last three years from 2015-17, has already posted five graded stakes wins during the Saratoga meet, including the Grade 1 Longines Test, Grade 1 Diana, Grade 2 Woodford Reserve Ballston Spa, Grade 2 Lake Placid and the Grade 2 National Museum of Racing Hall of Fame.
"Everyone here puts a lot of hard work in, from me on down and throughout my whole team, no matter what their position is or what their duties are," Brown said. "It's extremely rewarding to have success at such a premier meet like this. With all the hours we put in, it's is very rewarding. On a personal level, being from the area, and having so much local support, so many fans, family, friends [and] everyone that roots for us, it feels very good. Throughout the meet, it is literally like playing in your home stadium. It feels like a homecourt advantage when you walk around."
Brown said Sistercharlie's win in the Diana on July 21, the meet's second day, was a harbinger of the success to follow.
"Probably kicking off the meet in a nose win in the Diana," Brown said when asked his thoughts on the meet's biggest day. "It didn't look like the horse was going to get there. Looking back, it was an omen of what was to come. It was our meet."


[ad_2]

Article Source