[ad_1]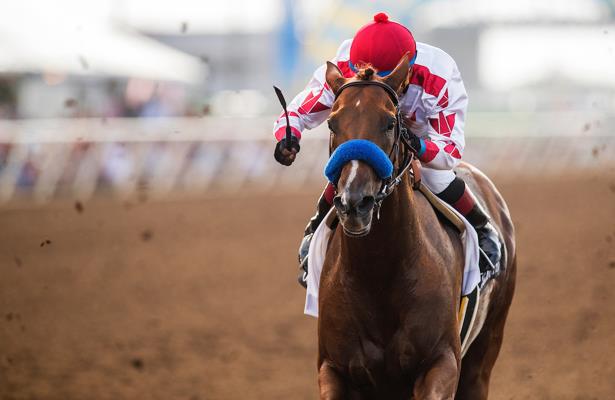 Grade 1 winner and near-$3 million earner Collected will begin his stallion career at Airdrie Stud for the 
2019 breeding season, the Midway, Ky., farm announced Monday.

Bred in Kentucky by Runnymede Farm Inc. and Peter J. Callahan and raced in the silks of Peter Fluor and K.C. Weiner's Speedway Stable LLC, the Bob Baffert trainee was an Eclipse Award finalist for Champion Older Male in 2017. That season was highlighted by his victory over Eclipse and IFHA World Champion Arrogate in the Grade 1 Pacific Classic and a second-place finish in that year's Grade 1 Breeders' Cup Classic.

A 5-time graded stakes winner,Collected's current earnings stand at $2,975,500 as he awaits a proposed start in Saturday's Breeders' Cup Classic at Churchill Downs.
"It's a very proud day for Airdrie Stud to be able to announce Collected as our newest stallion," said Airdrie owner Brereton Jones. "One of the smallest bullseyes to hit in our business is to find a young stallion that both fills the eye of the commercial breeder while also boasting the resume of a genuine leading sire prospect. Collected is that horse.

"He's a beautiful, masculine, correct Marette Farrell purchase, he was a debut winner at 2 going 6 1/2 furlongs, and he trained on to beat the best horses in the world at the classic mile and a quarter distance. He's the best son of one of the really special sires we've seen in recent years in City Zip and he comes from a family cultivated by two of the world's best breeders. We couldn't be more grateful to Peter Fluor and K. C. Weiner and their families for allowing us to stand their great horse or more excited about the exceptional partnership we've put together to support Collected at stud. This horse has a chance to be very, very special."
"Collected has been an absolute dream horse for our Speedway Stable family, "said partners Peter Fluor and K. C. Weiner in a joint statement. "Our advisers Marette Farrell and John Adger identified him as a
perfect Bob Baffert candidate when we bought him as a 2-year-old, and it would be very difficult for a plan to work out better. Because of our tremendous confidence that his next career will be every bit as successful as his first, we have elected to stay involved with Collected and to partner with the wonderful group that Airdrie has put together.

"We will be supporting the horse with several of the very nice fillies and mares we've raced and purchased over the last few years and look forward to doing our part to make him the great success we know he can be."

A stud fee will be announced immediately following Collected's official retirement from racing.
A son of the late City Zip, a perennial leading sire of no less than 77 stakes winners and 4 individual Breeders' Cup Champions, Collected is out of the Johanessburg mare Helena Bay (GB) and comes from the decorated Runnymede/Aga Khan family of Leading Sire Blushing Groom and 2017 Eclipse Champion Lady Eli.


[ad_2]

Article Source