[ad_1]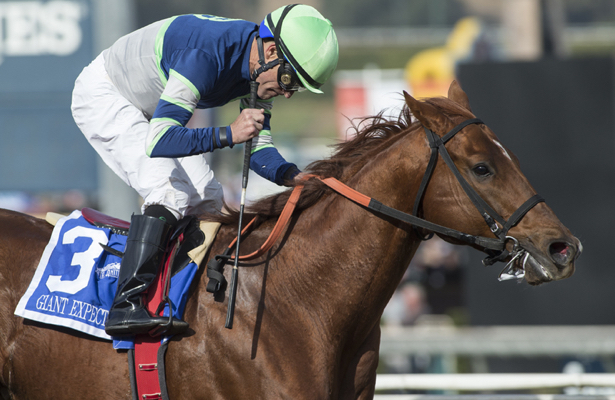 Photo: Benoit

By Jonathan Lintner
What was expected to be a successful final prep for the $16 million Pegasus World Cup by Collected turned into a major upset Tuesday when 13-1 shot Giant Expectations went wire to wire in the Grade 2, $300,000 San Antonio Stakes.

Perhaps now trainer Peter Eurton now has a contender for the world's richest race, too.

Under Gary Stevens, Giant Expectations led a compact but talented field at Santa Anita Park through slow opening fractions, with the half mile in 49.19 seconds, and went unchallenged in the stretch of the 1 1/16-mile test.
"Well, I didn't know if I liked it or loved it until I saw the 49," Eurton said. "The 24 (seconds) and change was awesome because I saw his ears just pricked forward. He looked like he was running really — Gary just did an amazing job and stole it. Just a great ride."

Accelerate finished second with Collected, the 1-5 favorite, sat last after the first turn, opposite the approach taken when second in last month's Breeders' Cup Classic. Jockey Mike Smith was in the irons for the first time and is expected to ride in the Pegasus, for which Collected has already been confirmed to run.

Mike Smith on Collected's run in the San Antonio: "It was a bad ride. It was my fault. I slipped leaving the gate. We should have been on the lead. Then they were going too slow and we couldn't get there in the end."

— Jeremy Balan (@BH_JBalan) December 26, 2017
The San Antonio Stakes effort is likely to flatter soon-to-be-Horse of the Year Gun Runner that much more.
Prime Attraction, another said to be under consideration for the Pegasus, missed the board. With nine slots taken, The Stronach Group purchased three remaining spots in the gate and is expected to negotiate with connections to fill the field, which normally costs $1 million to enter.
"We'll find a sponsor, right?" Eurton quipped in the winner's circle.


Giant Expectations returned $29.

Del Mar's Grade 2 Pat O'Brien winner rebounded from consecutive finishes out of the money to score Tuesday for owners Exline Border Racing, Gatto Racing and Garrett Zubok.
"The gate's everything," Eurton said. "He's got to get away. He doesn't like a lot of dirt in his face."
Giant Expectations wires the field to upset the San Antonio at @santaanitapark for @EurtonRacing!
Watch LIVE racing now on https://t.co/vCZgVVRYIS pic.twitter.com/HndrF1L5EA

— XBTV (@WatchXBTV) December 26, 2017


[ad_2]

Article Source