[ad_1]

Unless or until some of the 50 or so individuals who were involved in a sickening brawl at Goodwood on Saturday are identified and, hopefully, charged as a result, it is impossible to say with any certainty how an afternoon at what is possibly Britain's most serenely beautiful track suddenly descended into violence. But there seems little doubt that alcohol was a significant factor as events spiralled out of control, along with the unusually hot weather. Several reports of chants between two large groups in a bar beforehand suggest that there may be been a football rivalry involved as well.
There is no excuse for such deliberate, wholesale violence, nor any obvious reason why the thug seen kicking a motionless man in the head in a video that circulated widely on social media should not be charged with attempted murder if, or hopefully when, he is identified. That part of the investigation is in the hands of the police while Goodwood – and any other track with a big weekend fixture over the next few months – will now examine what can be done to prevent any similar scenes in the future.
The question that occurs to many regular racegoers, however, is whether the racecourses will ask themselves honestly about their own approach in recent years, to their big Saturday fixtures in particular, and whether it played any part in creating the scenes that have done so much damage to racing's reputation. On social media and internet forums, racecourses stand accused of encouraging a booze culture on their big days. This leads some at least to conclude that little will be done to address the issues that follow, for fear of the impact on the bottom line.
The subject of alcohol and its use and abuse on racecourses exposes a fault line between the frequent racegoers and the once-a-year crowd that, as the BHA's marketing department often reminds us, makes up a significant majority of the sport's annual attendance of nearly six million. For some serious fans, a trip to the track is a monthly, or even weekly, occurrence. For those on an annual day out it is a big event, and thanks to Britain's ingrained drinking culture, many feel that booze, and lots of it, is an essential part of the experience.
Haydock, in particular, has a reputation for catering to a huge number of coach parties at its high-summer Saturdays and which arrive from all across the north and Midlands. Plenty of those aboard have been drinking before they arrive and are determined to continue for as long as they can. Newmarket's July course and York also attract large numbers of coach parties to their Saturday cards, as do less high-profile venues like Thirsk and Ripon.
Do the racecourses then encourage their customers to drink and keep drinking? Encourage would probably be too strong a word, but at the same time, the demand for alcohol is there from the punters and the tracks are not afraid to facilitate it. At Haydock, for instance, racegoers do not need to find the beer. The beer finds them, with mobile bar staff with plastic barrels strapped to their backs who roam the enclosures all day. Being forced to queue for a bar does not stop people drinking, but it can help to slow them down.
Whenever any business sells alcohol as part of its business plan, some of its customers are going to get drunk. And when a large number of people get drunk in the same, crowded environment, the febrile atmosphere will sometimes spill over into violence. The risk cannot be eliminated entirely, only reduced to as close to zero as possible.
The danger, always, is that the short-term profit to be made from selling beer by the tanker-load to people who are willing and eager to pay for it means that the potential long-term consequences are overlooked.
Racecourses will always serve alcohol and some racegoers will, at times, always get drunk. But the big tracks spend plenty of money to promote themselves as glamorous, exciting and family-friendly places to spend a day out. An incident like Saturday's can undo much of that their hard work in an instant because once seen, the image of a prone racegoer being kicked in the head is all but impossible to forget.
Young Rascal enters Derby picture with Vase victory
Saxon Warrior, last Saturday's 2,000 Guineas winner, appears impregnable at the top of the betting for the Derby next month, but punters will be keen to find each-way options against Aidan O'Brien's colt and Young Rascal emerged as a live contender with a comfortable success in the Chester Vase here on Wednesday.
He was cut to a top price of 16-1 for the Derby, for which Saxon Warrior is favourite at even-money. "There wasn't a lot of room when I asked him to come out and go and win the race," Doyle said, "and I loved the way he got the [12-furlong] trip and the way he battled hard."
Haggas, who won the Derby with his first runner in the Classic when Shaamit prevailed in 1996, has had very few starters in the race since and sees Young Rascal as a realistic contender.
"We came here to try and get two races in one into him," Haggas said. "He was very green at Newbury [on his second start in April], and he did well, because a few things went against him. He's fully entitled to have a shot at Epsom and he's got a bit to offer.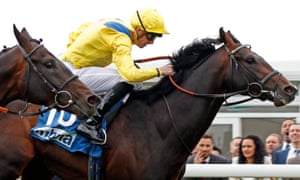 Enable went on to win the Oaks and the Arc after winning last year's Cheshire Oaks, and while Magic Wand, who was Aidan O'Brien's sixth winner of the race, is unlikely to reach such heights, the daughter of Galileo will head to Epsom as a fair 10-1 chance in what promises to be an open race.
Magic Wand's win also franked the form of Dermot Weld's Jaega, who made a winning debut in a maiden at Leopardstown in April in which Magic Wand finished third, beaten nearly seven lengths. Jaega is not currently entered in the Oaks, but is a possible runner in the Group Three Blue Wind Stakes at The Curragh on Saturday.
[ad_2]

Article Source