[ad_1]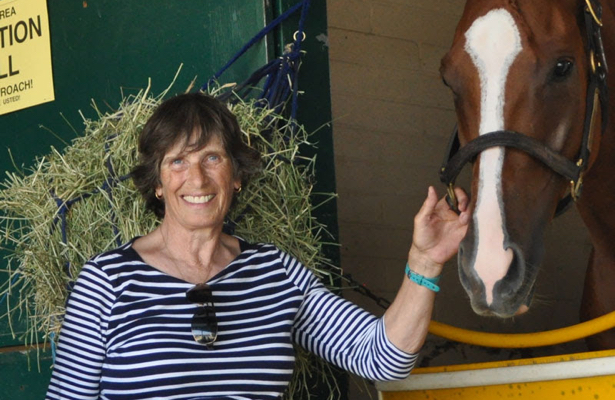 Photo: Courtesy of Del Mar

Eleven months after she was severely burned attempting to save horses from the fire that devastated San Luis Rey Downs, trainer Martine Bellocq was in the Del Mar paddock on Friday to oversee the saddling of two of her horses in the eight-race program.
In a wheelchair that was navigated by her son-in-law Colin Hinck, and with her training partner and husband Pierre doing the hands-on work with the horses, Martine sent out Grey Tsunami in the first race and Brite Rivers in the third.
That neither hit the board was far less consequential than the fact that Martine was able to be present, for the first time since the fire and go through the race day routine.
Draped in a blanket with a hat, sunglasses and a cloth hospital mask protecting her from the sun, Bellocq spoke with Tod Leonard from the San Diego Union-Tribune.
"I see the horse. I take him to the track. You know, it's all of my life," Bellocq said. "It's hard to live without horses. My family said I should retire, but maybe we have the next stakes horse. You never know. I want to win races for my owners, to show them we are still in the game."
While glad to be back at the track, Bellocq said she is not, as yet, able to go to the stable area very often.
"I got operations on my lips and eyes (10 days ago). I don't want to go through the dust and get tired and everything. The doctors say to take care of myself. I don't want to do too much because I get tired fast. It's not like other people get tired. It's burning, numbness, a lot of scratching."
Fire victim Bellocq makes her training return at Del Mar https://t.co/6EQYRfvy2i pic.twitter.com/vRb8BGxMB5

— San Diego Union-Tribune (@sdut) November 24, 2018


[ad_2]

Article Source