[ad_1]

It's the time of year when those first 2019 Kentucky Derby lists are appearing and, for some, Triple Crown fantasy league rosters are forming. So if you're sticking your neck out on a particular horse — after all, it's always fun to look back and say you had the winner tabbed before everyone else — consider these keys.
Mike Shutty, author of Horse Racing Nation's Super Screener handicapping system, has whittled the search down to eight criteria common to Derby winners in the points era, which began in 2013.
"Another benefit of isolating early Derby winner prep race patterns is to leverage that intelligence in the early Kentucky Derby wagering pools," said Shutty, who uses Brisnet ratings that measure early, middle and late speed of horses. Certain energy distribution patterns lend themselves to the modern day 1 1/4-mile contender.
Of course, Justify did rewrite the history books a bit last year when waiting until February to debut. Before him, each of Orb, California Chrome, American Pharoah, Nyquist and Always Dreaming measured at least a 100 Brisnet Late Pace figure in their early prep race.
"Note that while Justify didn't post a 100-plus Brisnet Late Pace figure, he did submit monster figures of nearly 100-plus across the pace and speed rating slots," said Shutty, noting his 106 mid-race figure was higher than those Derby winners before them.
"This may emerge as a new screening criterion as pace and presser types continue to trend favorably when it comes to winning the Kentucky Derby," Shutty added. "For now, suffice to say, if we see any horse submit a prep line anything close to what Justify laid down in his debut, tab that one as a viable Kentucky Derby contender if he meets most of the remaining criteria."
What other themes exist when looking at these Derby winners? Each won their early prep, Shutty notes, and overall in the points era the Derby hero hasn't lost in his 3-year-old season. Additionally, the top contenders tend to have a layoff line before that early prep, or are making it their second race following a break from the 2-year-old season.
"In the case of Justify," Shutty says, "it was his racing debut."
To read in more detail the eight criteria, click below to receive a free PDF updated for the 2019 Derby trail: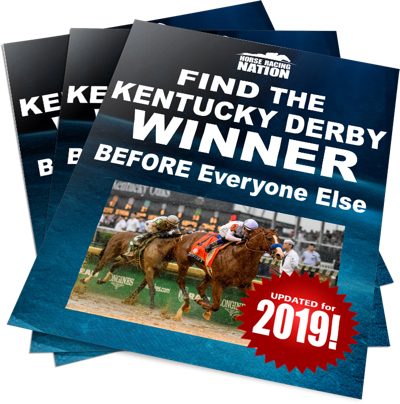 Smarty Jones nominations
The nominations list for Oaklwan Park's $150,000 Smarty Jones Stakes now appears online. Along with the expected case of local contenders are some curious possible shippers.
Trainer Bob Baffert nominated four: Kingly, Metropol, Much Better and Mucho Gusto. Todd Pletcher has two on the list, Jan. 23 Gulfstream maiden winner Overdeliver and Federal Case, purchased in November by Robert and Lawana Low — winners of the 2018 Arkansas Derby with Magnum Moon — for $650,000 following a 2-for-2 start to his career.
Derby links
• Plans are set for Game Winner's 2019 debut. The champ in waiting is targeting the San Felipe Stakes (G2), trainer Bob Baffert said Sunday, as his first of two preps before the Derby.
• Trainer Butch Reid will have a bigger-name jockey, Jose Ortiz, aboard when Maximus Mischief makes his 3-year-old bow in the Holy Bull (G2). The Daily Racing Form offers the full report.
• Brian Zipse will be betting on a longshot in Saturday's Lecomte Stakes (G3). The HRN senior writer detailed why he likes the Joe Sharp-trained Malpais in his latest column.
The works
Gun It — The $2.6 million colt from Gun Runner's family worked the typical Steve Asmussen half mile the week of a race, going in 50.40 Monday morning, toward a Thursday allowance at Fair Grounds that should send the winner on the Derby trail.
Improbable — Bob Baffert upped the unbeaten colt to four furlongs Monday in his second breeze back. Clockers caught the last-out Los Alamitos Futurity (G1) winner going in 49.20 seconds at Santa Anita.
Kingly — Also in California, the Baffert-trained debut winner and full brother of Mohaymen continued his steady march to a second start by drilling five furlongs in 1:01. Mentioned previously, he's nominated for the Smarty Jones.
Mucho — The well-regarded Hopeful Stakes (G1) runner-up picked up the pace with his second breeze back this year, going three furlongs Sunday in 36.80 seconds for trainer Bill Mott at the Payson Park Training Center.
Super Steed — The Smarty Jones Stakes contender will be run into shape, trainer Larry Jones says, and remained on schedule with a morning work, too. He registered five furlongs Monday in 1:00.80 at Oaklawn Park.
Tight Ten — Entered in the Lecomte, this Asmussen trainee also worked an easy Monday half in 50.20 seconds.
In case you missed it…
Sunday's Derby Daily report featured an interview with Brendan Walsh, trainer of Lecomte favorite Plus Que Parfait, who he hopes proves to be among the crop's best this weekend.


[ad_2]

Article Source