[ad_1]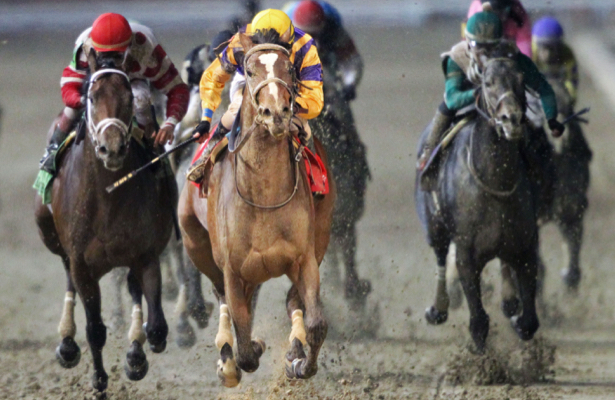 Photo: Coady Photography

With the new year's first batch of 2019 Kentucky Derby prep races approaching at Fair Grounds and Oaklawn Park, it's worth an updated look at what we call the Central Division of 3-year-old hopefuls targeting a start on the first Saturday in May.

Fair Grounds hosts the trail's next points race Jan. 19, the Grade 3, $200,000 Lecomte Stakes, which is followed by the $150,000 Smarty Jones Stakes at Oaklawn Park Jan. 25. Both award points on a 10-4-2-1 scale.
RELATED: Our update on the East Coast prospects

Before the next round of races, here's where the Central prospects currently stand: 

(Sire – trainer – owner – Kentucky Derby points)

The Leader
 
Signalman (General Quarters – Kenny McPeek – Tommie M. Lewis, David A. Bernsen, LLC, and Magdalena Racing (Sherri McPeek) – 18): Signalman continued to improve through the fall, and after respective second and third-place finishes in the Breeders' Futurity (G1) and Breeders' Cup Juvenile, he broke through in the Kentucky Jockey Club (G2) over a sloppy track. The colt is nearing his first work back at Payson Park in Florida and is pointing for the Fountain of Youth (G2) at Gulfstream Park March 2.
First Tier
 
Knicks Go (Paynter – Ben Colebrook – KRA Stud – 18): Minus his off-the-board finish in the Kentucky Jockey Club, Knicks Go impressed in upset performances. The 70-1 Breeders' Futurity winner backed up that effort by finishing second in the Breeders' Cup Juvenile to Game Winner. He is back galloping at Tampa Bay Downs and is pointing toward the Sam F. Davis (G3) there on Feb. 9.

Long Range Toddy (Take Charge Indy – Steve Asmussen – Willis Horton Racing LLC – 10): Long Range Toddy found success at Remington Park, where he won three of four career starts. Those victories include the Clever Trevor Stakes and the Springboard Mile. In the latter, he proved he could rate and held off stablemate Bankit by a head to earn Derby points. Long Range Toddy has moved to Oaklawn Park and last worked five furlongs in 1:01 last Saturday, the fastest of 30 at the distance.
Second Tier
 
Bankit (Central Banker – Steve Asmussen – Winchell Thoroughbreds LLC and Willis Horton Racing LLC – 4): Bankit scored against New York-breds in Belmont's Sleepy Hollow with a 5 ¾-length win, then he rallied from last in the Springboard Mile to miss stablemate Long Range Toddy by only a head. Bankit has also moved to Oaklawn and shares the bullet five-furlong breeze with Long Range Toddy from the weekend.

Classy John (Songandaprayer – Dallas Stewart – Valene Farms LLC – 0): Classy John showed talent from the start when he won his debut at Saratoga by six lengths. He was then second to Hog Creek Hustle in allowance optional claiming at Churchill Downs before taking Fair Grounds' Louisiana Champions Day Juvenile and Louisiana Futurity back to back. His three wins have been at six furlongs, and he could stretch out to one mile and 70 yards in the Lecomte.

Gray Attempt (Graydar – Jinks Fires – Dwight Pruett – 0): Gray Attempt has two wins from three starts, with both wins coming on the lead. He broke his maiden at 6 ½ furlongs, then won Fair Grounds' six-furlong Sugar Bowl over Derby trail hopefuls Manny Wah, Hog Creek Hustle and Super Steed. Gray Attempt is scheduled to stretch out to a mile in Oaklawn's Smarty Jones next out. 

Mr. Money (Goldencents – Bret Calhoun – Allied Racing Stable LLC – 2): Mr. Money is intriguing. His first stakes attempt came in the Breeders' Cup Juvenile, and he ran a respectable fourth after breaking his maiden one race earlier at Churchill Downs. In his winning performance, he came from off the pace going 1 1/16 miles and won by 3 ¾ lengths. He's been working toward the Lecomte at Fair Grounds and had the bullet work of 19 five-furlong moves Jan. 3. The time was 1:00.20.

Plus Que Parfait (Point of Entry – Brendan Walsh – Imperial Racing LLC – 4): Plus Que Parfait also looks close to breaking through. He broke his maiden by a nose at Keeneland stalking the pace at 1 1/16 miles, then rallied in the Kentucky Jockey Club and missed a more experienced Signalman by a neck. He received a short break and fit a work in at Fair Grounds last Saturday between rainy days. He breezed five furlongs in 1:01 for a possible Lecomte start, though Walsh hasn't ruled out an allowance race next.

Tight Ten (Tapit – Steve Asmussen – Winchell Thoroughbreds LLC – 4): Tight Ten has been runner-up twice in graded stakes – the Saratoga Special (G2) and the Iroquois (G3). He was done early in the Breeders' Cup Juvenile and finished ninth, but he also hit the rail in that race. He's been working at Fair Grounds and put in a five-furlong drill in 1:00.80 Jan. 7. Tight Ten could also add to what looks like a competitive Lecomte.

War of Will (War Front – Mark Casse – Gary Barber – 0): War of Will showed talent on the turf, finishing second in the Summer (G1) at Woodbine, but he broke his maiden once switched to the dirt fifth time out. He won by five lengths over a sloppy track at Churchill Downs, and now he's working toward his dirt stakes debut in the Lecomte. He worked five furlongs in 59.60 Jan. 5 in New Orleans, the second fastest move of 76.
Ones to Watch

Albaugh Family Stables' Admire, trained by Dale Romans, won at 1 1/8 miles at Churchill Downs' November meet. He stalked the pace and held off a late runner to win by half a length. Look for him in the Lecomte. Gainesway homebred Cornacchia won on debut at Fair Grounds last month, rallying from mid-pack to win by a nose at six furlongs. The Tapit colt is stabled with Brad Cox. Another Tapit colt to watch is Gun It, owned by Three Chimneys and Whisper Hill and trained by Steve Asmussen. The $2.6 million yearling won second time out at Fair Grounds and pulled away by 4 ¼ lengths going 1 1/16 miles. West Virginia-bred Tackett is expected to make his stakes debut in the Lecomte. He has two wins at the same one mile and 70 yards distance at Fair Grounds – a 7 ½-length front-running maiden score and a neck victory from off the pace in allowance optional claiming.

Hog Creek Hustle and Super Steed will have to rebound from their Sugar Bowl performance to move up. The former could receive another chance in the Lecomte, and the latter will get another go at Gray Attempt in the Smarty Jones. Spendthrift Juvenile Stallion Stakes winner Dunph (2) improved to third in the Springboard Mile from ninth in the Kentucky Jockey Club, while Smooth Air runner-up Souper Jackpot faded to fifth in the Jerome.

Impressive maiden winner Blue Steel will need to do better than his 13th-place run in the Kentucky Jockey Club next out, and Dream Maker is working on a return from the Breeders' Futurity. He was made the favorite when Mind Control scratched, but clipped heels, lost a shoe and part of his hoof, and finished 12th.
On the Shelf

Iroquois winner Cairo Cat (10) has been sidelined since his prep win in September, but was the big Derby prospect for trainer Kenny McPeek before Signalman came along. Both are coming up on their first works of the year. Limonite (2) rallied from last in the Kentucky Jockey Club to finish third and has no works registered since. 

Remaining Central Division Preps

• Lecomte Stakes (G3), Fair Grounds – Jan. 19

• Smarty Jones Stakes, Oaklawn Park – Jan. 25

• Risen Star Stakes (G2), Fair Grounds – Feb. 16

• Southwest Stakes (G3), Oaklawn Park – Feb. 18

• Jeff Ruby Steaks (G3), Turfway Park – March 9

• Rebel Stakes (G2), Oaklawn Park – Feb. 18

• Louisiana Derby (G2), Fair Grounds – March 23

• Blue Grass Stakes (G2), Keeneland – April 6

• Lexington Stakes (G3), Keeneland – April 13

• Arkansas Derby (G1), Oaklawn Park – April 13


[ad_2]

Article Source