[ad_1]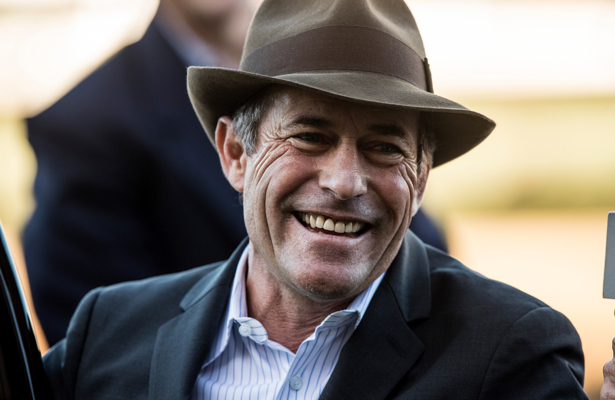 The California-bred filly Lovely Finish spooked Nov. 17 at Del Mar, Gary Stevens remembers, after leaving a noisy paddock at the seaside oval.

"She started to rare up like she was going to flip and then just launched forward — threw her head down to the ground," he said. "It whiplashed me really bad. I felt like I had a lightning bolt hit me in the back of the neck, and my right arm went numb."
And then it happened six more times before Lovely Finish scratched from the seventh race, Stevens told reporter Christina Blacker in an interview for the United Kingdom's "Luck on Sunday" program.
Stevens rode one more race after that, in what was his final time on a horse. He retired after a quick series of X-rays and MRIs. Then, his doctor said, "I'm putting you with one of the best spinal surgeons in the world."
Stevens said in the "Luck on Sunday" interview he's due for the operation on Dec. 27. A vertebrae sitting against the 55-year-old's spinal cord is the culprit, not a pinched nerve as Stevens had originally assumed on race day.
"They told me how lucky I was to be walking and just be careful until the surgery date," Stevens told Blacker. "That's kind of what's been going on.
"… I feel very, very confident in the doctor. It falls in his court now."
Stevens' third retirement will assuredly be his last — doctor's orders — but in his latest return the Hall of Famer checked a number of items off his bucket list, including a Breeders' Cup Classic victory with Mucho Macho Man and a memorable partnership riding the champion mare Beholder.
Appropriately, Stevens' final race was Del Mar's Bob Hope (G3) for 2-year-olds. From there, runners often hit the Kentucky Derby trail, and it's that pull that was keeping Stevens in the the game for another season.
"It all mattered on if I was going to find a good 3-year-old that was Derby-bound," he said. "My mom, she said, 'There's always one that keeps you going.' This time, there was no choice."


[ad_2]

Article Source