[ad_1]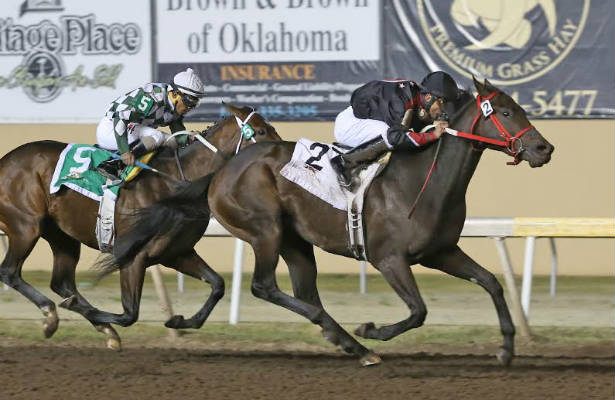 Photo: Remington Park/Dustin Orona Photo

Shotgun Kowboy has been made the strong morning line favorite at 2-5 odds for Friday night's $175,000 Oklahoma Classics Cup at Remington Park. The race is the headliner for the $1,000,000 Oklahoma Classics Night for eligible Oklahoma-breds with eight divisional stakes events. 

Shotgun Kowboy is attempting to win his third Classics Cup, at 1 1/16 miles. Bred, owned and trained by C.R. Trout of Edmond, Okla., Shotgun Kowboy won the Classis Cup in 2015 and in 2017. A third victory in the race would put him alongside Mr Ross (1999-2001) and Zee Oh Six (2002, 2005-2006), as the only horses to capture the top event in the series three times.

Trout comes into this year's Classics Night with 11 career wins in the series, including four Classics Cups. In addition to his triumphs with Shotgun Kowboy in 2015 and 2017, Trout also saddled Imahit to win the race in 2013 and 2014. Trout's 11 Classics wins puts him second all-time for training victories in the series.
Jockey David Cabrera receives the call on Shotgun Kowboy for the first time in the 6-year-old gelding's career. A son of Kodiak Kowboy from the Siphon mare Shotgun Jane, Shotgun Kowboy has earned $1,267,501 overall with 12 wins (seven at Remington Park), five times finishing second and another five races where he was third. He will make his 31st career start when he leaves the gate on Friday night.

Shotgun Kowboy is the first horse to win the Grade 3 Oklahoma Derby in 2015 and then win the Oklahoma Classics Cup. Shotgun Kowboy also seeks his fourth career victory in the Oklahoma Classics. He started his career in the state-bred series with a win in the $100,000 Classics Juvenile in 2014. Only four horses have won four or more Oklahoma Classics races in its history. Highland Ice won five Classics races with Notable Okie, Okie Ride, and She's All In each winning four.
Shotgun Kowboy enters the Classics Cup off a third-place effort in the $175,000 Governor's Cup behind Hence on Sept. 30. Earlier this year, Shotgun Kowboy, won the Grade 3, $200,000 Lone Star Park Handicap, defeating Mubtaahij, out of National Hall of Fame trainer Bob Baffert's barn. Mubtaahij was the winner, by eight lengths, of the Grade 2, $2 million UAE Derby in Dubai in 2015. He then competed in the Grade 1, $2 million Kentucky Derby and finished fourth to Triple Crown winner American Pharoah in the Belmont Stakes that year.

Tuff Kid, second while beaten 5 1/4 lengths by Shotgun Kowboy in the Classics Cup last year, is the second morning-line choice at 4-1 odds. He finished fourth in the 2016 edition of the race behind winner Phantom Trip, when Shotgun Kowboy skipped the event that year.

Claimed on August 31 for $30,000 for new owner GK Racing of Driftwood, Texas and new trainer Karl Broberg, Tuff Kid is normally a deep closer in his best efforts and will add blinkers for the first time in his career for the Classics Cup. A 5-year-old gelding by Don't Get Mad from the Wild Again mare Tuff Chick, Tuff Kid will be ridden by Ramon Vazquez for the first time in his career.

Hyper Drive is the only other contestant in the Classics Cup to have started previously in the race, finishing seventh behind Phantom Trip in 2016. Owned by Henry Thilmony of Minneapolis, Minn. and trained by Randy Oberlander, Hyper Drive last won on April 16 at Will Rogers Downs in Claremore, Okla. in a starter allowance race at the same 1-1/16 miles distance of the Classics Cup.

Making his first start in the Classics Cup will be Rowdy The Warrior, a 4-year-old trained by Donnie Von Hemel, the all-time leading trainer by wins in the Oklahoma Classics with 26. Also entering the race for the first time is Night Strike, a 3-year-old trained by Bret Calhoun, who won an Oklahoma-bred allowance race at 1 mile-70 yards at Remington Park on Sept. 6.

The field for the Oklahoma Classics Cup by post position and program order, with trainer, jockey and morning-line odds:
1.    Night Strike – Bret Calhoun, Jamie Theriot, 12-1
2.    Hyper Drive – Randy Oberlander, Lindey Wade, 6-1
3.    Rowdy The Warrior – Donnie Von Hemel, Luis Quinonez, 15-1
4.    Tuff Kid – Karl Broberg, Ramon Vazquez, 4-1
5.    Shotgun Kowboy – C.R. Trout, David Cabrera, 2-5 (morning-line favorite)

The Classics Cup is the sixth of 10 races on Oklahoma Classics Night and will start at approximately 9:25pm. The other stakes events during the evening include:
Race 1, 7:07pm: $130,000 Distaff Turf, fillies and mares, 3 and up, 1-1/16 miles (turf)
Race 4, 8:31pm: $130,000 OKC Turf Classic, 3 and up, 1-1/16 miles (turf)
Race 5, 8:58pm: $130,000 Sprint, 3 and up, six furlongs
Race 7, 9:52pm: $130,000 Distaff Sprint, fillies and mares, 3 and up, six furlongs
Race 8, 10:19pm: $145,000 Distaff, fillies and mares, 3 and up, 1 mile-70 yards
Race 9, 10:45pm: $100,000 Juvenile, 2-year-olds, six furlongs
Race 10, 11:26pm: $100,000 Lassie, 2-year-old fillies, six furlongs


[ad_2]

Article Source