[ad_1]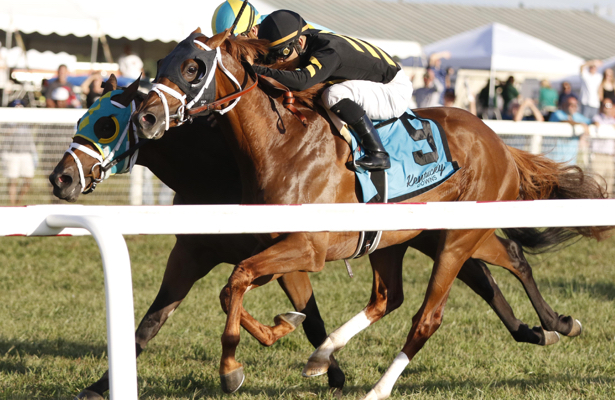 Photo: Grace Clark/Reed Palmer Photography

Saturday's debut of the $150,000 Bald Eagle Derby for 3-year-olds as part of a 12-race 'Class on the Grass' program attracted nine horses and drew praise from horsemen seeking what they feel is a sorely needed late-season spot for sophomores.
Among the trainers with horses in the Bald Eagle Derby, set for 1 ½ miles over the All Along turf course, are seven-time Eclipse Award winner Todd Pletcher, Canadian Hall of Famer Mark Casse, Kentucky Derby winner Graham Motion and Chad Brown, who has been voted the Eclipse Award in 2016 and 2017.
Calumet Farm's homebred Channel Cat, trained by Pletcher, is the slight 2-1 program favorite over Admission Office, from Brown's barn, at 3-1. Channel Cat enters the Bald Eagle Derby with a gutsy win in the 1 5/16-mile Dueling Grounds Derby Sept. 12 at Kentucky Downs.
"I was happy to see it on the calendar. It's a new race and not one that I was actually aware of until a month or so ago," Pletcher said. "It's great to have those kind of options. Usually at this time of year wanting to go that far you have to step up and run against older horses and that's always a tall order when you're running 3-year-olds that don't have nearly as much experience, especially at those type of distances."
Casse counters with Chiefswood Stable's Ontario homebred Neepawa, most recently a front-running winner of the Breeders' Stakes, the third leg of Canada's Triple Crown, contested at the Bald Eagle Derby's 1 ½ miles on the Woodbine turf.
"I think there's not enough 3-year-old racing in the fall. It's still extremely tough for a 3-year-old to run against older horses," Casse said. "I hardly will do it, so I'm always looking for 3-year-old races as I think many do and I think there's not enough of them so this is a welcome addition to the calendar, for sure. Having a 3-year-old right now would be having probably an older teenage kid and asking them to go up against college-age competition. It's a tall task."
Motion will send out Bill Crager and Paul Hondros' improving Nakamura, a son of Motion's 2011 Kentucky Derby winner Animal Kingdom that was second in his only previous try at 1 ½ miles against older horses July 5 at Delaware Park.
"You don't get a chance to run these kinds of distances very often, especially against straight 3-year-olds. It's definitely something he's shown us he wants to do," Motion said. "It's awesome. It's great to be able to stay with 3-year-olds as long as you can. I think it provides these kinds of horses with a great opportunity. It's a great spot. It's something that horsemen going forward can now point to in the fall."


[ad_2]

Article Source