[ad_1]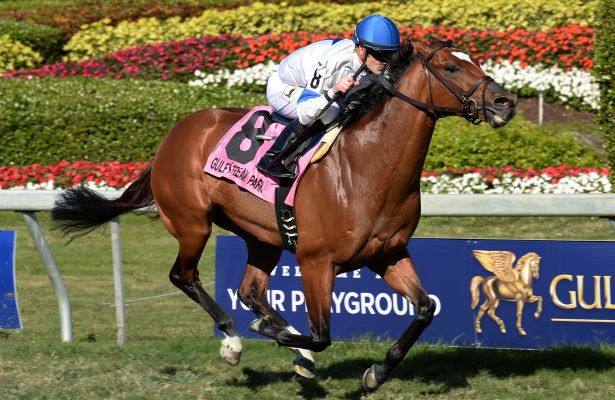 Photo: Gulfstream Park

Heart to Heart didn't return to the winner's circle at
Gulfstream Park in his 2019 debut, the Tropical Turf Stakes (G3), but his
performance is not discouraging for what is to come this season. 

The 8-year-old horse broke last and was forced to settle off the pace after
turning four wide in the first turn. Heart to Heart does his best running on
the front end, such as when he picked up his first Grade 1 score in the
Gulfstream Park Turf Stakes a year ago. 

"When he
broke he threw his head up and hit me in the face," regular jockey Julian Leparoux
said. "After that he relaxed good for me and ran a nice race. We were too wide
(around the first turn)."

With Heart to Heart out of his element, he had to work harder to gain ground
throughout the race. Doctor Mounty and Your Only Man came flying from the back
of the field, and although Heart to Heart made a nice rally when swung four wide
again, he could not hold off the other two. Doctor Mounty was up to win by a
length while Your Only Man nosed out Heart to Heart for second. 

Heart to Heart ended 2018 on a low note with two off-the-board finishes, but
trainer Brian Lynch put him away in October to let him rest for the following
season. This year's debut was not ideal, but for Heart to Heart to still rally
after all that went wrong, he showed he's still ready to run.


Selcourt needed the race

At the beginning of 2018, Selcourt was becoming the sprint mare to beat. She rattled off three consecutive wins in the Kalookan Queen, the Las Flores (G3) and the Santa Monica (G2). Then she was away more than seven months when she shipped to Churchill Downs for the Breeders' Cup. 

In this year's renewal of the Kalookan Queen on Sunday, Selcourt was the heavy 1-5 favorite and the class of the field. Santa Anita's Sunday feature helped boost Selcourt's name last year, and it was a chance to kick off her 5-year-old season in style. 

Instead, it was 16-1 shot Spring Lily who cut the turn and strode to a 2 ¼-length victory. Selcourt, who bobbled at the start, turned three wide and only had enough in the tank for second.

The defeat doesn't necessarily mean Selcourt is not as good as she appeared a year ago. This was her first race back at her home base, and it came two months after the Breeders' Cup. Despite Selcourt's layoff heading into the World Championships, she was the second choice in the Filly & Mare Sprint. She broke on top, setting opening fractions of 21.89 and 44.99, then faded back to twelfth after leading the first half-mile.

Prior to the Kalookan Queen, Selcourt worked a bullet five furlongs in a minute flat and looked sharp for her 2019 debut. After several months away and a trip across the country for Breeders' Cup, Selcourt could just be winding up to reproduce the performances she did a year ago.



A good horse can come from anywhere

Escape Clause is believed to be the first Manitoba-bred horse to ever win a
stakes race at Santa Anita Park. Trained and owned by Don Schnell, the
5-year-old mare has gone on to win much more than her $3,792 yearling auction price
would suggest. From 28 starts, she has won 19 races and has earnings of
$423,500. She raced 13 times in 2018 and won nine consecutive races.

"She was just built like a horse that was gonna grow up and hopefully be
something," Schnell said. "…I used to say anytime I got a good horse, I'd
like to come to Santa Anita and win a race."

And following Escape Clause's romping victory in Saturday's La Canada (G3), Schnell
accomplished just that.

It wasn't until November Escape Clause began taking on the Southern California
circuit, and her La Canada score shows it's possible to find a good horse
anywhere. 

With Canadian racing, Toronto's Woodbine is normally the first track that comes
to mind, but Escape Clause has spent most of her time further West at Assiniboia
Downs, Northlands Park and Century Downs. She has also run at Canterbury Park
in Minnesota and spends the colder months based at Turf Paradise in Arizona. 

Escape Clause made her California debut over Del Mar's turf and crossed the
finish line second by half a length in the Kathryn Crosby Stakes. The stewards
elevated her to first and disqualified Excellent Sunset to second for drifting
in the stretch. She dead-heated for third in the Red Carpet Handicap (G3) at the
end of the meet, then finished fourth in the Robert J. Frankel (G3) at Santa
Anita. 

She switched to dirt for the La Canada, sat off the pace and pulled away to win
by 5 ½ lengths. The track was labeled "Wet Fast (Sealed)" and she completed the
1 1/16 miles in 1:41.89.

"She came out of the race great and we're looking to run here in either the
Buena Vista or the Beholder Mile," Schnell said the day after the race. "We
want to run her back here at Santa Anita; we'll just have to figure out which
race."

The Buena Vista (G2) is a mile on the turf Feb. 23 and the Beholder Mile (G1)
is on the dirt March 16.





[ad_2]

Article Source