[ad_1]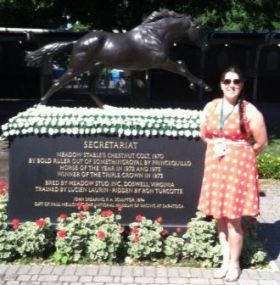 Meet Ashley Tamulonis
Despite growing up in a non-horse racing state, Ashley has
been a fan of the sport since a young age. Her love for horse racing was
fostered through the kids' book series Thoroughbred
by Joanna Campbell, which led her to educate herself on the ins and outs of the sport. Since becoming actively
involved in the industry just a few years ago, Ashley has had the
opportunity to meet many important players in the industry, attend the Eclipse
Awards, see personal favorite Mucho Macho Man race twice in person, and befriend many of the fantastic fans and horsemen involved
in the sport.
Ashley began her time with Horse Racing Nation covering racing in South Florida but also blogged about nationwide racing, industry issues and, from time to time, offered her opinion on how various changes could be beneficial to the industry. A move North to New Hampshire began both a new chapter in both Ashley's personal life and professional life. She currently pens the From Coast to Coast blog for HRN. Ashley also participates as a voter in the NTRA Top Thoroughbred Polls.
An alumni of Macon State College, Ashley is from Central
Georgia but is currently living in New Hampshire with her husband, Chris, and their two sons Charlie and Michael. A stay-at-home mom, Ashley juggles parenting with blogging and her other passions. Aside from horse racing, Ashley is a fervent football fan, enjoys reading and studying history, and hopes to someday author a historical work covering the Tudor
period as well as biographies of horse racing's stars, equine and human alike.


[ad_2]

Article Source