[ad_1]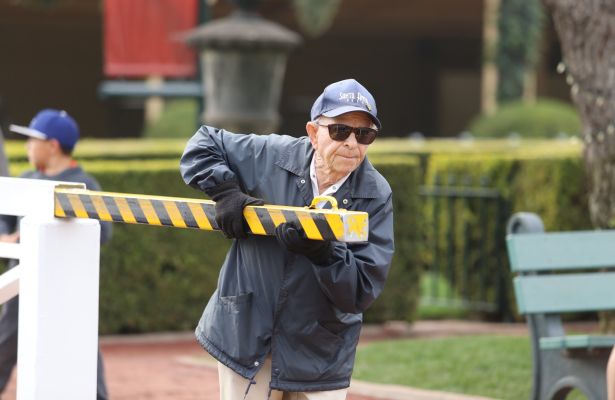 Photo: Courtesy of Santa Anita

Arguably the youngest "old" man on earth, Santa Anita's beloved Paddock Captain John Shear will celebrate his 98th birthday on Thursday in predictable fashion — by punching his time clock and settling in for yet another day of managing human and equine traffic in Santa Anita's picturesque Paddock Gardens.

Employed at The Great Race Place for nearly six decades, Shear, who was born in London and  originally aspired to be a jockey, immigrated to Vancouver, B.C. following World War II and then came to Southern California in 1954.    

"I was exercising horses for a guy in Vancouver and he asked me if I'd like to go with him to Santa Anita that fall," said Shear. "I said 'sure,' and as soon as I stepped off that van in the Stable Area here, I said 'Lord, this is where I want to be.' The place was so incredibly beautiful and I've never gotten tired of it."

A diminutive four feet, 11 inches, Shear weighs 104 pounds and attributes lifestyle, attitude and exercise as the primary reasons for his incredibly vigorous life.

"I still do 30 pushups every morning. I do deep breathing exercises and I've got a stationary bike for my legs. I do a lot of walking here at work and at home…I walk my dog every day and I love what I do."

When asked what he thinks of a world in which seemingly everyone is continuously glued to an electronic device of one kind or another, he responded:

"The world changes. My wife is on the computer
all day, and I can't say anything about it!"

Shear, who sustained life threatening injuries resulting from an act of heroism eight years ago in which he threw himself between a 5-year-old girl and an on-rushing loose horse, has no thoughts of retiring from the job he loves.

"I can't imagine retirement," he said. "Every day is a blessing and I love everything about this job…The people, the horses, jockeys, the trainers and everyone I work with. I hope it never ends."

And wouldn't
that be something.


[ad_2]

Article Source