[ad_1]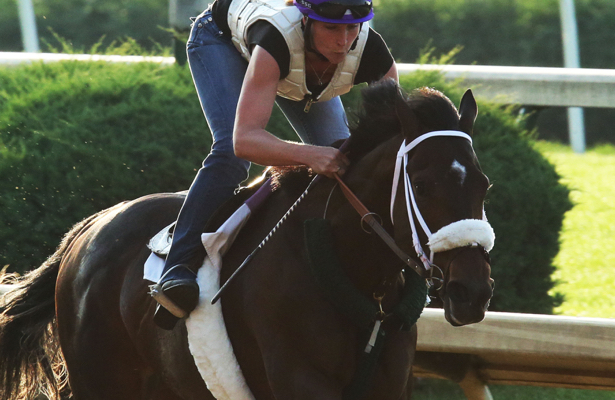 Photo: Coady Photography

Old school was in session Thursday at Churchill Downs, as Preakness Stakes runner-up Bravazo worked a methodical mile in 1:42 3/5 in his major training for the 2018 Belmont Stakes.
Hall of Fame trainer D. Wayne Lukas, a four-time Belmont winner, said he wanted to have Bravazo going along in a relaxed manner in preparation for the 1 1/2-mile Triple Crown finale.
"Beautiful," he said afterward. "I just wanted to open his lungs a little bit. He's fit. It wasn't a fitness thing. But I want to get him mentally where I want him. Now I'm pretty much through.
"He wasn't blowing much at all," Lukas added. "It was really a nice morning for him, very pleased. Everybody who works a horse usually has something nice to say, but it was a good work."
Horses working farther than three-quarters of a mile have become increasingly infrequent, with today's trainers more likely to add a stiff "gallop out" onto a shorter work. Lukas, arguably the most influential trainer in modern times for how he transformed the sport, is not beyond taking pages from bygone years, when horses routinely worked almost as far as they would race.
Lukas said he doesn't stage mile works on a regular basis but has been known to throw one into a horse. He said he wanted exercise rider Danielle Rosier to go through 13-second eighth-miles, and that's pretty much what Bravazo did as he started off and finished at the wire of the mile track.
Churchill clockers caught Bravazo's splits in 13 1/5 seconds for the first eighth-mile, 25 3/5 for the quarter-mile, 38 1/5 for three-eighths, 50 3/5 for the half-mile, 1:03 2/5 for five-eighths, 1:16 3/5 three-quarters of a mile and 1:30 for seven-eighths. The gallop-out time for 1 1/8 miles was 1:58.
"She was worried about it," Lukas said of Rosier. "I told her, 'We're not saving lives here. We're not going to get the Nobel Peace Prize for this. You're just working a horse.' She was really nervous. I drew out what I wanted her to do: hit 'em in 13, 13, 13 and 1, 13s.' She was worried she wouldn't get it, and she got it darn near perfect. 
"It was even all the way," he continued. "I told her to get the half in 50 and change, 1:15-1:16 for three-quarters and she was right on the money."
Bravazo, who was bred by Brad Kelley's Calumet Farm, finished sixth in the Kentucky Derby after running poorly in the Louisiana Derby following his victory in the Grade 2 Risen Star. Lukas has said Bravazo got nothing out of the Louisiana Derby and probably paid the price for it in the Kentucky Derby. He promised an improved performance for the Preakness, and got it when Bravazo surged out of the fog to fall within a half-length of nailing Justify.
Lukas said it's a narrow line between having a horse at his best for a race and nudging them over the top. 
"There's a fine line between performance and staleness," he said, referencing one of the quotes in his soon-to-be released anthology with Christina Bossinakis titled "Sermon on the Mount."
"You have to be really careful you don't cross over it," he said. "That's true of the NFL teams, NBA teams, anybody in athletics. You can push them for fitness and getting them as good as you can, but you have to be really careful you don't go over that line. Because when they get a little bit sour or stale, boy, you're not going to get them back in two weeks. That's really tough."
Lukas says he thinks the best chance at upsetting Kentucky Derby and Preakness winner Justify came in the Preakness, where Bravazo just missed. That's because he believes the distance, which will slow down the pace, and Belmont Park's sweeping turns will prove ideal for Justify's tactical speed.
"This horse is pretty tough," Lukas said of Bravazo, continuing, "We're taking on Goliath, you know. This is not the junior prom we're dealing with. We're going to have a tough chore. I don't see any chinks in the armor.
"I think we had a chance to beat Justify in the Preakness. Now he's going to be really tough. I think it's a lot tougher order to beat him now."
Still, he said looking for an easier path with a talented horse who is doing well is not how he's wired.
"The Ohio Derby may be a pretty good idea, but it doesn't fit my personality," he joked, adding, "He won't embarrass us. Brad Kelley said, 'Don't worry about that,' that he got over embarrassment in fourth grade."



[ad_2]

Article Source