[ad_1]

City centre horse racing is a step closer to reality following a low-key trial at Aintree. Three mock races, which looked rather more like exercise gallops, were staged over three and a half furlongs on the road that runs inside the Grand National course in an experiment which satisfied the organisers that their ambitions are logistically possible, at the very least.
An artificial surface was laid the previous day in only 18 hours but those behind City Racing admit they will have to be even quicker at laying and removing the track if they are to be allowed to stage events in anyone's high street.
Intriguingly, the layout for this trial was modelled on Constitution Hill, where it emerges from Green Park and turns left on to the Mall. That suggests one of City Racing's ambitions is to stage racing right outside Buckingham Palace, which would certainly draw a crowd. The Queen's eldest grandchild, Peter Phillips, is the company's chief executive.
Phillips said nothing should be read into this choice of layout. "It was an easy thing for us to replicate here and show it is a doable thing but it is just an example."
It is understood City Racing was, for a time, on course to stage its initial raceday early last month in Paris as part of the build-up to the Prix de l'Arc de Triomphe. Money is said to have become the stumbling point, with the French authorities asking for rather a lot of it.
There is still enthusiasm for the project in France, apparently, and Paris is one of the more likely locations for one of the two racedays being planned for the end of next year, details of which are promised early in 2019. Dubai is also thought to be in the running, its broad streets offering plenty of room and its ruler, Sheikh Mohammed, being an enormously important figure in world horse racing.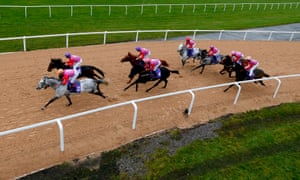 Clearly, the British-based City Racing would love to stage some racing in central London but obtaining the relevant permission has proved to be challenging. That ambition will probably have to wait until year two of the project.
"It's a bloody good idea," said Phillips after the first trial of eight runners had taken place in front of a crowd of journalists and potential investors. "I've spent my life trying to avoid horses and I keep getting drawn back into this sort of thing."
He insisted the aim was to help promote the sport, rather than compete with existing fixtures. Putting races on in the middle of major cities would help racing to reach people who would otherwise have no contact with it, including the younger audience it struggles to attract. Some have described it as racing's answer to cricket's Twenty20.
Phillips acknowledged such an audience would be especially sensitive to issues of equine welfare, which he described as "our number one priority". A panel of vets will examine the runners before races to make sure they are fit to compete.
The surface, Equaflow, has been designed to provide plenty of cushion on top of a road or pavement. It consists of a high-tensile plastic base, covered by 180mm of all-weather surface and was used for the equine events at the London Olympics.
Eight professional jockeys took part and praised how the surface coped, saying it rode as if it had been in place for months rather than hours. "They're getting their toe in a little bit, which is great," Hollie Doyle said. "Sometimes a new surface can ride a bit quick or kick up but it rode perfect. I can't fault it. It's quite similar to Wolverhampton."
There was only a furlong after the winning post to allow the jockeys to pull up, which explains why they did not race flat out. Doyle said a full five-furlong course with a two-furlong pull-up, as planned for next year, would be adequate.
[ad_2]

Article Source