[ad_1]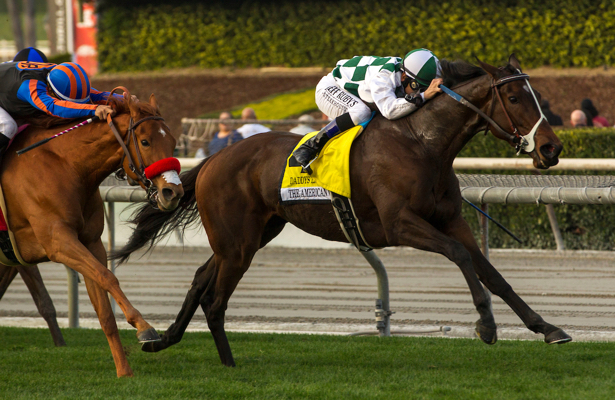 By Jonathan Lintner
Minutes before Daddys Lil Darling entered the gate for Saturday's $300,000 American Oaks, trainer Kenny McPeek promised, "She's going to get a Grade 1 today."

The 3-year-old filly — often on the board, but not yet in the winner's circle in some of the nation's biggest stakes — kept the conditioner true to his word in going on to win at Santa Anita Park.
"It really felt like she was coming into form," McPeek said.

His next prediction? That we'll see Daddys Lil Darling race again in 2018. She's on the up and up after the American Oaks performance.


Daddy's Lil Darling invades @santaanitapark for @KennyMcPeek to capture the Grade 1 American Oaks!
Watch the late double LIVE on https://t.co/vCZgVVRYIS pic.twitter.com/DBulJ2dbbW

— XBTV (@WatchXBTV) December 30, 2017
The daughter of Scat Daddy hooked off the rail and went by New Money Honey on her way to a victory under new jockey Mike Smith, who lived up to his "Big Money" nickname for a 16th top-level score this year — and in the year's final Grade 1 opportunity.

Madam Dancealot, who trailed by open lengths into the first turn, ran late for a close second by a half length with longshot Kathy's Song third."I think a good horse runs over any surface given the opportunity," McPeek said, "but I've always felt she was a better grass horse in the long run. It's probably a little easier on it because she gets over it."

The winner took a stalking trip, never far from pace-setting Coachwhip as the field completed the half mile in 48.68 seconds. Betting favorite New Money Honey made her move through the turn, but Daddys Lil Darling went by in the stretch, able to hold off Madam Dancealot's run.

Daddys Lil Darling finished the 1 1/4 on turf in a respectable 2:00.11 and, as the 2-1 second choice, she returned $6.
"We're used to seeing her double digits (lengths) out the back, but she's been training well," Smith said. "She's been training a little aggressive, and (McPeek) said that's OK. She can go in 48 and keep reeling them off.
"So (McPeek said) if she jumps well and she's right up there, just keep her happy. Don't put her somewhere she doesn't want to be, and don't take away nothing that comes easy. That's pretty much what I did."

The victory came after Daddys Lil Darling, owned by Normandy Farm, ran second in a trio of other Grade 1 races, including last May's Kentucky Oaks. She went to England as well but scratched when spooked by lightning before the start at Ascot.

"I'm really proud of the fact that today she ran without Lasix and did this," McPeek said. "I would have loved to have a shot at Enable last summer. Next year is maybe even better. We'll see."

Rymska, the 5-2 morning line favorite, scratched from the entered American Oaks field of 10 when found lame in her stall Saturday morning. Connections said plans are to race the recent Aqueduct stakes winner in 2018.


[ad_2]

Article Source