[ad_1]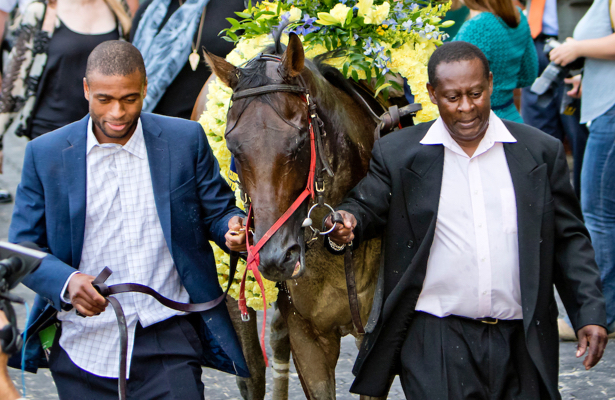 The odds are always long when Breeders' Cup Classic contender Discreet Lover heads to the gate in Grade 1 races, so it wasn't surprising when he went off at 45-1 in Belmont Park's Jockey Club Gold Cup. Even the horse's owner and trainer, Uriah St. Lewis, had to be surprised when his charge out-ran his rivals to earn a fees-paid trip to Saturday's race at Churchill Downs.
"Words can't describe it. It was so great," said Uriah St. Lewis, who owns and trains Discreet Lover. "The Jockey Club Gold Cup and the kind of horses I beat that day? One (Thunder Snow) beat West Coast in the Dubai World Cup. Diversify. Mendelssohn.
"It was a nice field that we beat. Some of them are coming back again and I think we have a very, very good chance."

Discreet Lover, who is based at Parx Racing in Pennsylvania, has made 44 starts at 11 tracks and holds a record of 7-7-7. St. Lewis said Discreet Lover is a horse that tries every start, and it's that characteristic that turned a $10,000 purchase as a 2-year-old into a Grade 1 winner with more than $1.3 million in the bank.

"He'll be one of the fittest horses in the race because he ran so much," the trainer said. "He ran 44 times. I don't even have to bring him to the paddock, because he went through the paddock 44 times. He doesn't need more paddock training. He could go any place."
The Excelsior Stakes (G3) in April marked the first graded stakes win for both St. Lewis and Discreet Lover. They then earned their Grade 1 placing together when Discreet Lover ran third in the Whitney Stakes. That performance led to Discreet Lover's 12-1 price in another Saratoga feature, the Woodward (G1), but he missed the board in that one.

"The one bad race, it was my fault," St. Lewis said. I took the blame for him because – the Woodward – I tried to keep him too close to the speed. It was 14 horses, like Saturday, and I said, 'Just keep him close.' And he didn't want no part of that."
All the better for those who like to play the son of Repent, as his price shot back up in the Jockey Club Gold Cup. Discreet Lover took advantage of Diversify's blistering opening fractions in 22.72 and 45.64. He was able to catch Thunder Snow by a neck and hit the wire in 1:59.99.

St. Lewis is expecting the pace to benefit Discreet Lover again in the Classic.

"He's going to sit his normal race and make one run," St. Lewis said. "If he's good enough, he's going to beat them."

The Breeders' Cup not only adds to Discreet Lover's array of tracks visited, but it's also the first time St. Lewis has visited the home of the Kentucky Derby, watching his horse gallop under the famed Twin Spires.

"You see it on TV, but until you get here, you're like, 'Wow. This is entirely different,' St. Lewis said. "I've been to Belmont and Saratoga and all those places. When I came here the first morning and the lights were on, it was amazing.
"I called my wife and said, 'You got to come here. You got to see.' I've never seen nothing like this before."


[ad_2]

Article Source