[ad_1]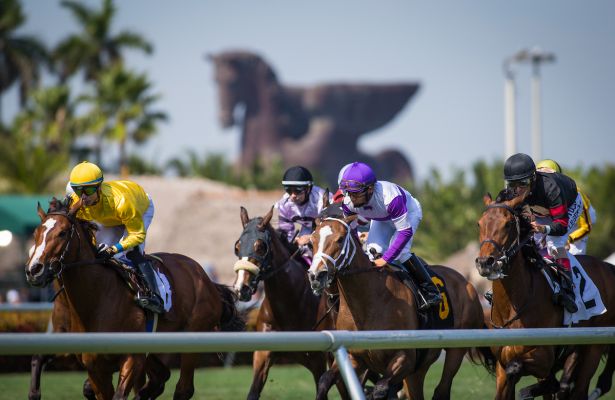 P.J. Campo calls the recently-signed agreement between Gulfstream Park, the Florida Thoroughbred Breeders' and Owners' Association (FTBOA) and Florida Horsemen's Benevolent and Protective Association (FHBPA) "a new beginning with unlimited potential."
"We're moving in an exciting direction with this agreement," said Campo, Vice President of Racing for Gulfstream Park and The Stronach Group.
The tri-party agreement not only secures the 37th running of the $1.5 million Florida Sire Stakes – the three-race series for 2-year-old Florida breds by nominated stallions – but also includes an additional $1 million in overnight races for registered Florida breds. They include:
·         A $10,000 bonus for horses registered in Florida running in select "open company" overnight races for 2-year-olds in the summer
·         A $10,000 bonus for 3-year-olds and up in the fall for horses registered in Florida.
·         Florida-breds running in select restricted overnight races will run for $10,000 more in purses.
"While we've always supported the Florida Sire Stakes and the Florida stakes program, this agreement is the first to really extend that support to overnight races," Campo said. "We believe by doing this it will encourage even more participation by breeders and owners to breed and race in Florida year-round. We're really looking forward to the implementation of this program with our partners at the FTBOA and FHBPA and the continued growth of Florida racing."
Lonny Powell, CEO of the FTBOA, said: "This innovative 3-way agreement recognizes the growing importance of supporting and promoting state-bred programs as well as their significance to tracks to compete and card races. Our re-energized partnership with the track and the FHBPA takes a significant and timely step in enhancing the economics of racing Florida-breds at Gulfstream. We appreciate the collaborative efforts of The Stronach Group, P.J. Campo and new FHBPA president Steve Screnci, which culminated in achieving the traditional offering of our nationally acclaimed signature Florida Sire Stakes for 2 year-olds while also creating an exciting new means of offering premium purses and bonuses for Florida-breds competing at all levels as well as in open company during the Summer and Fall.
"For multiple reasons this agreement for 2018 is a winning deal for the horse owners, trainers, track, breeders, wagering public and entire Florida Thoroughbred industry," Powell added. " Bottom line, if you race a Florida-bred at Gulfstream in 2018, you will be racing for more money in a big way. We look forward to capitalizing on the spirit of cooperation and positive momentum this agreement represents on a go forward basis."
Stephen Screnci, President of the FHBPA, said: "Thanks go out to Lonny Powell of the FTBOA and P.J. Campo of Gulfstream Park for being resolute in getting this deal done. I would also like to commend the FHBPA Breeder Liaison Committee, and particularly its Chairman Daryl Clark, for providing detailed analysis and spearheading the meeting last month in Ocala between our organizations and Gulfstream that culminated in this agreement. Hopefully, it sets the foundation for future agreements between the horsemen and the breeders which will be essential to the growth of our industry in Florida."


Source: Gulfstream Park


[ad_2]

Article Source