[ad_1]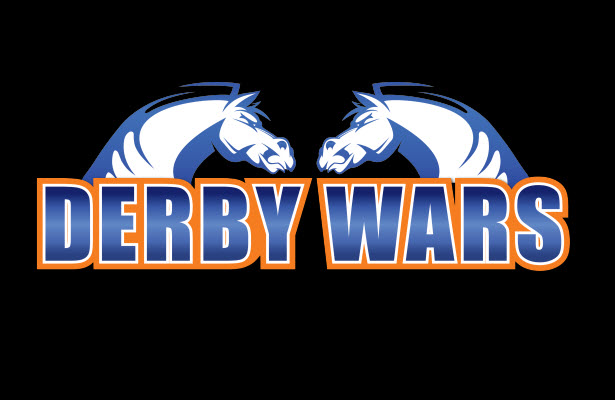 On Saturday,
there is an important $10,000 DerbyWars contest that is still open as of this writing. The game type is bullet, which
means players make a mythical $2 Win, Place and Show bet on one horse per race.
The races are selected beforehand, and there is a $175 buy in.



Expect this specific contest to feature the last four races at Belmont Park,
including the Pennine Ridge Stakes (G3), as well as other racetracks.



To give some background on my own experience with DerbyWars, around 2014
I played on the site regularly. Of course, putting up money and winning was great.
But the most entertaining part came when taking the lead and using the chat
room to call out picks, knowing the rest of the players could not make up ground
choosing the same horses. It was fun. 



In any case, the bullet format is one that focuses on value. Here are a couple of interesting Belmont horses to focus
on.



Belmont Race 7 – Adorable Song



Assuming the race stays on turf, this might be an interesting longshot to
consider. She chased a fast pace last fall on this track, but other than that,
the trainer is hot with horses coming off 170-284 day layoffs winning at 21-percent.
That number should eliminate any worries about her coming off the layoff.
In a game like DerbyWars, it only takes one longshot to make a giant move
(although it should be noted Win, Place and Show payoffs are capped).



Belmont Race 7 (Off-turf selection) –
Peril



If the race is off turf, then give Peril a look. She is a half-sister to Governor Malibu, which makes her a candidate to handle the
off going.



Belmont Race 8 – Lucky Town
TimeformUS Pace Projector believes he will lead the field through a slow
pace and Javier Castellano is good at taking advantage of paceless scenarios. The selection is as simple as that. Plus, the shorter distance might help
this horse last longer than last time.



Belmont Race 8 (Wet-dirt selection) – Javelin
Different track conditions call for different selections. On a sloppy
racetrack, the closer Javelin deserves a look as he won by seven lengths over
mud in February. Receiving enough pace is a question mark, but in this format
there is a payoff for reaching third. Taking a shot might be worth
it.



Belmont Race 9 – Untamed Domain



Analyze It is the best horse in the race, but this contest pays for third or
higher so it might be wise to choose Untamed Domain. If Analyze It does not
feel like running for any reason, this closer will be coming late. If Analyze It dominates, then maybe contest players can get some
money back.



Belmont Race 10 – Performance Bonus



Unlike most of the picks above, this one is based mainly on the trainer
statistics. According to TimeformUS, John Servis is currently winning at 23-percent
at Belmont Park. The trainer/jockey combo of Servis and Paco Lopez hits at
21-percent. As for the horse, he is a new gelding and might improve. Some of
his speed figures under Chad Brown would win against this field.



Belmont Race 10 (Off-turf selection) –
Got Even
This nine-year-old warrior loves a wet track, as his 6-3-1-0 record
indicates. He was claimed off Jerry Hollendorfer at Oaklawn, but the new
trainer is competent enough and hits at a 22-percent clip overall.



Final Advice



For those lucky enough to be in the lead or near the top, demanding value in selections
is less important. Just find a way to retain position.



As someone who has played DerbyWars many times, it is easier to stay on top than
mount a comeback from behind. Players start to change strategy when behind, choosing
longshots they never considered before. It usually does not work. Starting strong in this game is key. 


[ad_2]

Article Source