[ad_1]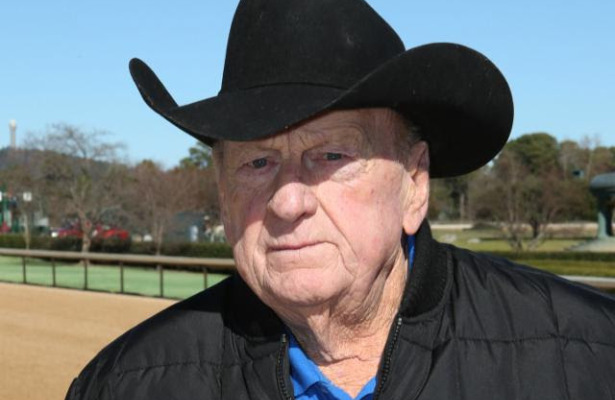 Photo: Coady Photography

Hall of Fame trainer Jack Van Berg died Wednesday at age 81, his publicist, Christ Kotulak, announced, leaving behind a legacy of superior horsemanship and everlasting kindness.

"His family appreciates your understanding as they complete plans for a memorial service," Kotulak said of Van Berg, who conditioned, among others, 1988 Horse of the Year Alysheba.

Van Berg had been recovering from throat surgery in October and was more recently hospitalized in Arkansas while battling cancer.

The Nebraska native trained Alysheba to a victory in the 1987 Kentucky Derby and also conditioned 1984 Preakness Stakes winner Gate Dancer. His National Museum of Racing and Hall of Fame induction came in 1985 and came on the heels of the same honor for his father, Marion, who was inducted in 1970.
Van Berg helped to revolutionize the training business in the 1970s, as he operated multiple stables in various geographic locales, often visiting each several times a week while "living on airplanes."
Although his equine fortunes had dwindled in Southern California, a switch to Oaklawn Park in 2014 proved to be an elixir as Van Berg proved yet again that he could compete and win on one of the nation's toughest racing circuits. 

And, to what did he ascribe his newly re-found success?
"I've changed my feed program," he told Bill Finley with the Thoroughbred Daily News. "I'm feeding faster horses."
Van Berg's stable continued its resurgence in 2017, as he won 42 races from 269 starters. For his career, Van Berg-trained horses won 6,523 races, fourth-most all-time in North America according to Equibase, with their earnings totaling more than $85 million.
Van Berg is survived by a son, trainer, Tom Van Berg, and three daughters, Tori, Tammy and Traci. He was predeceased earlier this year by another son, trainer Tim Van Berg. Funeral services for Jack Van Berg are pending.
A Santa Anita Park news release contributed to this report.
A true gentleman in all facets of life, a man's man and an exceptional horseman. He was Truth when it came to horse training and I was lucky to have spent several of my mornings as a trainer getting to know him at Hollywood Park for which I will forever cherish. ??
RIP #JVB. ?? pic.twitter.com/6HVcrzQuQz

— Nick Hines aka SARGE (@Hinesite) December 27, 2017
One of my favorite memories: DerbyWeek2016 standing on the @ChurchillDowns backstretch with JVB (right), Bill Mott (on pony), Dave Vance (left) & some lifelong racetrackers as they shared stories of Aksarben from decades prior. Don't often get to laugh that hard. pic.twitter.com/TwAJymyya3

— MollyJoRosen (@MollyJoRosen) December 27, 2017
Heartbreaking news from Little Rock this morning that Hall of Fame legend Jack Van Berg has passed after a courageous cancer bout. Bigger than life, with a heart of gold under a gruff exterior, he helped countless make lives on the racetrack. A privilege to have known him.. pic.twitter.com/KnEC7FSBfg

— Steve Byk (@Steve_Byk) December 27, 2017
Jack VanBerg's passing… Not many people you meet in your life can be called great… This man was great…. Will be sorely missed

— Ronald T Anderson (@ronaldt54) December 27, 2017
First LeRoy and now Jack. Two legends and friends. Rest in Peace and our deepest sympathies to all of their loved ones. #jackvanberg #leroyjolley #RIP pic.twitter.com/La4cNyFZ71

— Dale Romans (@Romansracing) December 27, 2017
One of the greatest men our industry has ever seen. Generous, considerate, passionate about this game, Jack would do anything for anyone and took care of so many people along the way. His 81 years made the world a much better place. https://t.co/7NNfXnCzzA

— Michael Joyce (@TVGMike) December 27, 2017


[ad_2]

Article Source