[ad_1]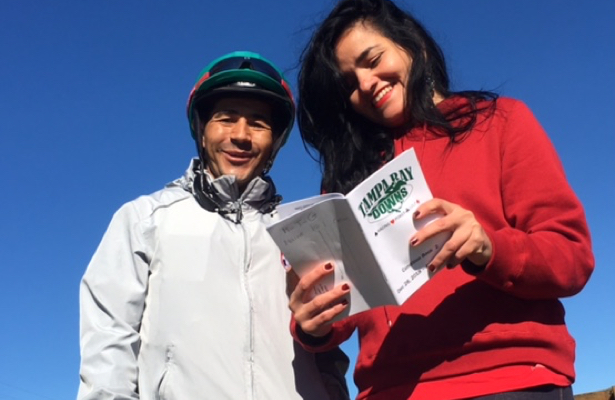 Photo: Courtesy of Tampa Bay Downs

Rose Miranda is married to a professional athlete, a mother of three boys and a family and criminal law attorney in her homeland of Brazil.
Although it might come as a surprise that she works as an agent for her husband, jockey Ademar Santos, Miranda says her racetrack job is merely part of the total package.
"I already considered myself empowered," said Miranda, who first handled bookings for Santos in 2017 at Delaware Park. "Not because I'm a jockey's agent or an attorney, but because I have a husband and kids I love. They are my everything."
The 43-year-old Santos, also from Rio de Janeiro, worked last summer and fall with agent Ron Burke at Woodbine in Toronto, where he rode 27 winners. His tally included the (then)-5-year-old gelding Ikerrin Road in the Grade 2, $210,400 Kennedy Road Stakes on Nov. 24, also Opening Day at the Oldsmar oval.
Santos remained at Woodbine through mid-December, about three weeks into the Tampa Bay Downs meeting, also winning 12 races at Fort Erie on Woodbine's dark days.
Rather than scramble to find an agent upon his arrival, Santos has enlisted his wife to spread the word that he is back and eager to win races. Although they have yet to click on all cylinders, both are confident the arrangement will result in a gradual climb up the Oldsmar standings.
"It's a challenge starting late, but we work together well. Rose likes a challenge and I like a challenge," said Santos, who also rode career winner No. 500 at Woodbine and secured a mount in the Grade I Ricoh Woodbine Mile. "I'm a fighter. I never give up, and I ride my best every day, every race. I always give 100 percent for whatever I'm doing."
In the same fashion, Miranda has thrown her full energy into selling her jockey's talent and work ethic to Tampa Bay Downs trainers. She studies videotapes closely, not only getting a feel for the horses Santos is riding but trying to find "live" horses for him.
When it comes time to visit barns, Miranda is every bit as hard-charging as her jockey, whose reputation for aggressiveness has waned only slightly the last few years.
"I love getting here early in the morning, and I love dealing with people," Miranda said. "But I'm not shy about telling a trainer I think my jockey can do better because he rides smart and can finish up on horses.
"Someone might think I don't know the game because I'm his wife and a mother, but when I start to talk to them, they realize that I'm humble and I know how to talk," Miranda added.

Make no mistake: Rose and Ademar are a team. They discuss their plans every morning, and Ademar is quick to fill her in on the subtleties of dealing with trainers, insights that can help land quality mounts.
"There is really no kind of boss in what we do," he said. "I'll help her with things she doesn't understand, and she'll give me ideas on things I didn't see because I'm concentrating so hard on riding. If she sees another rider made a mistake in a race, we'll talk about whether we should see the trainer about trying to ride the horse the next time.
"It doesn't hurt sometimes to ask, and even if you don't get the mount, they might think about using you on another horse," Santos said.
Miranda balances her job with raising the boys, who were all born in Dublin, Ireland, when Santos rode there about 10-to-12 years ago. Twins Lucas and Gabriel are sixth-graders and Rafael is in fourth grade. They are huge horse racing fans, with Lucas immersing himself in all aspects of the sport.
"They all love it, but Lucas is the most involved," Rose said. "He knows everything that's in the condition book and can tell you there's a race coming up on Sunday for 4-year-old maidens."
Trainer Chad Stewart, a long-time friend of the couple, believes the chances are good that their arrangement will result in long-term success. "It's a good, family-affair kind of thing," Stewart said. "Sometimes being married and being that close might cause an issue, but they both work hard and they're able to keep the money in the household, too.
"Rose is a pretty sharp woman. She knows what races you're considering as a trainer, which is key for an agent, and she's not afraid to offer a suggestion," Stewart said. "And she knows where Ademar is coming from, what he expects and how hard he tries.
"The main thing is, they're working together to go to the same place as a family."
Despite only winning three races here to date, Ademar and Rose greet each day as an opportunity to prove their worth and share the thrills of Thoroughbred racing. Santos never loses sight of the teamwork required to win, being quick to thank trainer Laura Cazares for providing the mount on first-time starter La Sirenita on Jan. 2, resulting in his first victory this season.
"I got here late, and sometimes you need a change. That's when I decided to work with Rose again," Santos said. "When you come back late a lot of trainers are tied up, but we just need to start to win a few races and business will improve.
"We're wishing that we get lucky together, win some races and be safe. That's the most important thing."


[ad_2]

Article Source