[ad_1]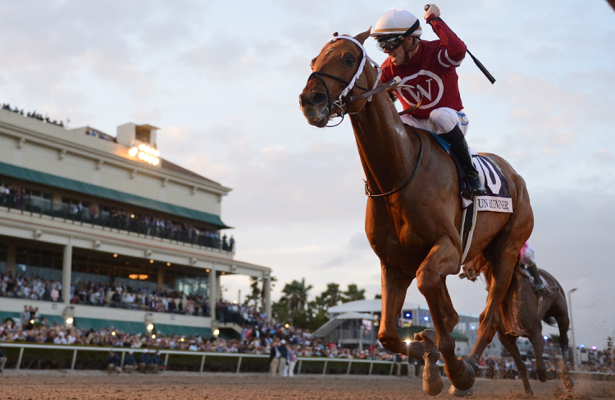 Photo: Courtesy of Gulfstream Park

Tim Ritvo, COO of the Stronach Group's racing division, says day-to-day racing can create new fans and viewership. But following Tuesday's announcement about the addition of a turf division to the Pegasus World Cup card, Ritvo further reinforced the Stronach Group's focus on "big events," something organization president Belinda Stronach, daughter of founder Frank Stronach, wants to improve.
"Belinda believes and the company believes that this is the only major league sport which has not evolved," Ritvo said, "so we're looking for ways to make it and help it evolve."
Gulfstream Park's Jan. 26 Pegasus World Cup Turf Invitational will carry a $7 million purse and complement the Pegasus World Cup Invitational run on the main track for $9 million.

Ritvo said the Stronach Group hoped the $16 million purse for 2018 Pegasus World Cup Invitational would have lured international runners. That's now part of the goal for the turf counterpart, with global operation Coolmore already expressing interest in the 1 3/16-mile race.

"Coolmore and Aidan O'Brien and crew, they have been telling us that they would love to see a grass race, too," Ritvo said. "They like the series as it is — participated in it the last couple years. Now with the grass race, it even makes it easier because they have so many of the greatest grass horses in the world."

Coolmore ran the multiple Grade 1-winning mare Stellar Wind in this year's Pegasus World Cup Invitational, a race that saw top horses Gun Runner and West Coast finish in the first two spots. The inaugural race in 2017 featured a Breeders' Cup rematch between Arrogate and California Chrome, with Arrogate taking home the win.

Ritvo said Mike Rogers, President of the Stronach Group's racing division, is already networking with overseas connections to help fill the 12 slots up for purchase for $500,000 each. The price will be the same for the dirt division, which previously cost $1 million.

Last year's slot holders will have the first right of refusal before mores spots in the race can be sold, with the deadline set as Oct. 18. The Stronach Group had to buy three unsold slots in the 2018 event, making deals for owners to run their horses for free with a limitation in purse earnings.

"We know it's the winter season, or the time off they take there, but we're hoping that the people who come over for the Breeders' Cup Classic and the grass races would end up staying a couple extra months and run with us," Ritvo said. "There's a lot of money on the line."

While the original dirt race was transformed from the Grade 1 Donn Handicap at 1 1/8 miles, the new turf race will take the place of the Grade 1 Gulfstream Park Turf Handicap, with the distance expanding to 1 3/16 miles from 1 1/8 miles.
With the Pegasus World Cup Invitational purse now split with the turf race, the Group 1 Dubai World Cup is once again the world's richest race with a $12 million purse.

"It still makes it the richest dirt race in North America at $9 million and the grass race at $7 million, so we still check those boxes," Ritvo said. "We're not the richest race in the world anymore, but we wanted to still commit the $16 million."

Following the 2019 Pegasus World Cup, the event could transform again for 2020, with Ritvo saying the Stronach Group's goal is to try new things in an attempt to grow the sport.

"The Breeders' Cup has been 34 years, and it started out as one great race and now it's two great days of racing," he said. "We're in our third year and in our infancy of where we're going to go, and to add the additional race is a thrill to us."


[ad_2]

Article Source