[ad_1]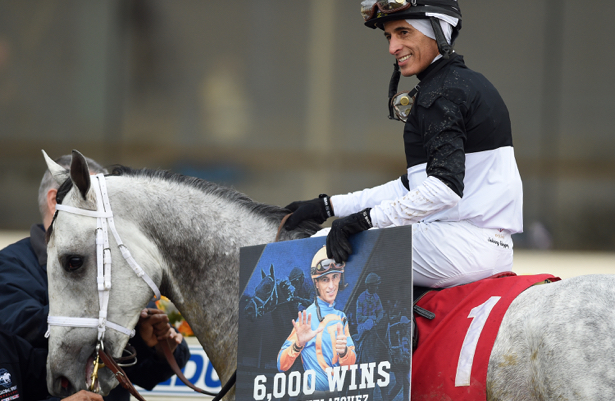 Photo: Susie Raisher, NYRA

Jockey John Velazquez on Friday earned his 6,000th career North American victory, piloting Singapore Trader to victory in Race 5 at Aqueduct Racetrack. Velazquez is just the 18th jockey to reach the milestone and one of just four active riders in the exclusive club, joining fellow Hall of Famer Edgar Prado along with Mario Pino and Perry Wayne Ouzts.
Over a 28-year career that started with a 109-win campaign in 1990, the 47-year-old, who is the highest-earning jockey in history with winnings of more than $390 million, has registered 15 wins in Breeders' Cup races and four wins in the Classics, riding Animal Kingdom (2011) and Always Dreaming (2017) to victory in the Kentucky Derby and Rags to Riches (2007) and Union Rags (2012) to glory in the Belmont Stakes.
"Everybody kept asking me when it was going to happen, but for me it was just another number," Velazquez said after his milestone win. "One day I'll look back and know I accomplished something great, but my job is to come here and win races. That's what I care about.
"Between me and Mike Luzzi, we're probably the oldest guys in the jockeys room and I do consider myself a father figure to the rest of the guys in the room," he added. "It's nice to have those kids look up to you and still following their dreams. Hopefully, they continue along as well. As far as looking forward, I'm fortunate to have won a lot of prestigious races in my career, so I'm just thankful for that. That's what we're here for, to try and come out and win races and we go from there."
Velazquez won his 5,000th career race aboard the Todd Pletcher-trained Galloping Giraffe in 2013 at Belmont Park. Singapore Trader is also trained by Pletcher, who teamed with Velazquez to win the Belmont Stakes with Rags to Riches and the Derby with Always Dreaming.
"Winning 6,000 races is a tremendous accomplishment, but what I'm most proud of Johnny for is the person he is: a leader of the jockey community, a caring father, loving husband, friend and mentor to many," Pletcher said. "These are the qualities that make him so special."
Added Velazquez: "I guess it was meant to be. I won my 5,000th for Todd so it's kind of nice to come back now and win my 6,000th with him as well and have it stay in the family."
Velazquez attended jockey school in Puerto Rico in 1988 and joined the NYRA circuit in 1990 under the guidance of Hall of Famer Angel Cordero, Jr., now his agent. Velazquez achieved his first New York victory aboard My Brother Jay on March 30 of that year at Aqueduct.

 
In 1995, Velazquez won the first two of what now stands at 187 career Grade 1 victories when he won aboard Turk Passer in the Turf Classic Invitational and Perfect Arc in the Queen Elizabeth II Challenge Cup.

 
When the 1996 Aqueduct Spring meet concluded, Velazquez earned his first meet title, and he would go on to earn an astounding 26 meet titles at NYRA.
At the turn of the millennium, Velazquez continued to establish his status as a top jockey. On September 3, 2001, he scored six wins on a single Saratoga card. Velazquez was named the Eclipse award for top jockey in 2004 and 2005 – a year in which he won the Dubai World Cup aboard Roses in May.
Velazquez helped to capture the hearts of a national audience when he guided the filly Rags to Riches to a history-making victory in the 2007 Belmont Stakes. Velazquez captured three more victories in Triple Crown races and second-place finishes in six others, including two runner-up efforts in the Preakness, three in the Belmont and one in the Kentucky Derby.
During this decade, Velazquez's racing accomplishments began appearing with the all-time greats. He surpassed Jerry Bailey's record of all-time Saratoga victories with 694 in July 2013. Velazquez then overtook Pat Day's position as all-time North American money-earning jockey in October 2013. The National Racing Hall of Fame inducted Velazquez in 2012.
While continuing to ride, Velazquez has become a leader for his industry, serving as Chairman of the Jockeys' Guild Board of Directors, and serving on the Board of the Permanently Disabled Jockeys Fund.


[ad_2]

Article Source