[ad_1]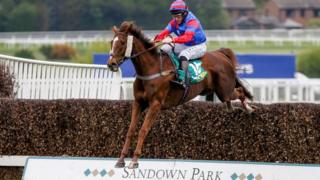 The Jockey Club, which operates 15 racecourses, including Aintree, Sandown Park, Cheltenham and Newmarket, has posted record annual turnover for 2017.
Revenues were £201.1m, up 5.2% on 2016, with operating profits before prize money also up, to £44.8m from £43.4m.
Prize money was up 10.1% to a record £22.9m. That meant profits after prize money fell slightly to £21.9m.
Jockey Club boss Simon Bazalgette said he was pleased with "a ninth successive year of commercial growth".
'Good strides'
He said the turnover, which broke the £200m mark for the first time, had been driven by increased general admissions revenues, hospitality revenues, partnership revenues and media revenues.
"Looking ahead, we are increasing prize money further in 2018 and we are continuing to invest in the experience we offer to customers and participants," he said.
Mr Bazalgette added: "We are now making some good strides in terms of our efforts to engage more people across the country in our sport, which is vital for the future."
The Jockey Club is the largest commercial group in British horseracing. It is governed by Royal Charter, with all profits invested back into the sport.
Some 1.9 million people attended its 334 race-days nationwide last year, and a further 2 million people attended its venues for other leisure activities and events, such as concerts.
The Jockey Club says it has doubled its turnover by 90% since 2008, its first full year of operating solely as a commercial group. At the same time, group operating profit before prize money has increased by 39%, and its contribution to prize money had increased by close to 75%.
The organisation has outlined plans to increase its contribution to prize money by a record £4.2m in 2018, which would take its contribution to a new high of £27.1m.
'Watching brief'
One potential challenge which the Jockey Club faces in the near future is from the knock-on effect of a reduction in the maximum stake allowed on fixed odds betting terminals (FOBTs) operated by UK bookies.
There are proposals so slash the top bet allowed on these gaming machines from £100 a spin to £2. If the proposal goes ahead, gambling firms are warning that their profits may fall, meaning that the 10% profits levy they pay to the Jockey Club to support British racing would fall too.
"It is fair to say British racing faces a commercial impact on the horizon dependent on the outcome of the FOBTs consultation, and what impact that actually has on the betting industry," said a Jockey Club spokesman.
"It's a watching brief at this stage and clearly the Jockey Club has diversified our revenue streams over the years so we are a robust business – as proved through challenging economic times – but where any streams are linked to the betting industry then we can expect some level of impact."
They added that the current financial year had started positively, with the Cheltenham Festival attracting a record 262,637 people across four days in March.
Meanwhile, the Grand National Festival 2018 sold out both Ladies Day and Grand National Day, while welcoming 153,500 people over the whole three-day event in April.
[ad_2]

Article Source