[ad_1]

Welcome to Horse Racing Nation's Kentucky Derby Daily, which will each day leading up to the May 4 race at Churchill Downs detail all the news and notes related to contenders in one convenient space.
Trainer Bret Calhoun saw Mr. Money showing all the right signs until the wrong time.
A day before last weekend's Lecomte Stakes (G3), the colt, a maiden winner who ran fourth in the Breeders' Cup Juvenile, coughed throughout a routine gallop at Fair Grounds. It led to one of the top choices scratching from the 2019 Kentucky Derby prep.
Now, connections are "keeping all options open," Calhoun said.
A son of Goldencents, Mr. Money returned to the track on Tuesday for a jog and will remain in light training until his white cell count drops, and the red picks back up — the product of quickly fighting off a fever.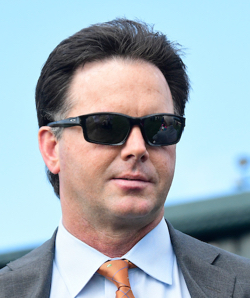 "The next race on the calendar is the Risen Star, and we just may not go in that direction," Calhoun said of the Grade 2, $400,000 race on Feb. 16 in New Orleans. "I don't know if he'll be ready for one thing. It's a day to day, week to week deal.
"If not, we'll even just possibly wait for an allowance race after that to get on track just because he'll be going against horses off an extremely long layoff now."
Mr. Money ran second twice to begin his career before breaking his maiden at third asking Sept. 28 at Churchill Downs. From there, Calhoun allowed the ambitious step up for the Allied Racing Stable runner in the Juvenile.
A steady string of workouts started Nov. 28 at Fair Grounds with the Lecomte the target.
"He developed physically and mentally," Calhoun said. "We were getting really excited about it, really optimistic about it, and really wanted to see how he stacked up against that group. I think he'd have had a good chance in there."
Instead, War of Will emerged a four-length winner and will head up the Risen Star.
Calhoun said he'd prefer to remain at Fair Grounds than ship out for Mr. Money's first start of the year, "but our hand might be forced." A softer Derby trail spot than the Risen Star could be found at Oaklawn Park, which hosts the Southwest Stakes (G3) on Feb. 18.
Still, there's no rush to make either spot — and no Derby fever in this camp.
"We'd love to do that if the horse took us there — if we thought we had the right horse and he was ready for it," Calhoun said. "But we're not going to push it. There's a lot of good 3-year-old races throughout the year."
Smarty Jones pace scenario
In speaking with Nancy Ury-Holthus, paddock host for Oaklawn Park, she noted that Jack Van Berg — the horse — entered a Saturday allowance optional claiming race in addition to Friday's $150,000 Smarty Jones, the Arkansas kickoff to the Derby trail.
That's important because should he scratch, Gray Attempt may have a more free reign on the lead. The Jinks Fires trainee has won two of three starts, last out taking the $75,000 Sugar Bowl Stakes at Fair Grounds while leading at every point of call.
"I don't think it will be a problem," Fires said of going two turns in the Smarty Jones, a one-mile race with a short stretch run. "Acts like he'll go around two turns."
Fires, according to Oaklawn's publicity department, tuned up with a five-furlong bullet work that went from the half-mile pole to the seven-furlong pole, replicating a short run up to the first turn as well.
"Trying to make sure he knew how to run into that turn," Fires said, "because that turns back pretty quick sometimes."
We'll feature Ury-Holthus' Smarty Jones handicapping in Thursday's report.
Derby links
• Coming out of Mind Control's Wednesday workout at Belmont Park, it was reported by the Daily Racing Form the Jerome Stakes winner will pass on the Withers Stakes (G3) in favor of staying around on turn in the Gotham (G3) later in the Aqueduct meet.
• HRN pedigree analyst Laurie Ross' latest article tackles the Derby distance question with six recently active horses on the trail, including the Lecomte winner War of Will and Bourbon War, winner of an allowance last Friday at Gulfstream Park. 
• We're not far from getting the full list of Triple Crown-nominated horses. Deadline to submit at a cost to $600 — it gets much more expensive later in the year — is set for Saturday. 
Recent @LaurelPark winner #StillDreaming enjoying the Florida sunshine. Pointing for the Sam F. Davis Stakes at @TampaBayDownsFL @GrahamMotion pic.twitter.com/kDWGgOpixx

— West Point Tbred (@westpointtbred) January 23, 2019
In case you missed it…
Tuesday's Derby Daily report updated Coliseum, the flashy gray colt who's still dealing with some mental roadblocks early in his career.


[ad_2]

Article Source