[ad_1]

Welcome to Horse Racing Nation's Kentucky Derby Daily, which will each day leading up to the May 4 race at Churchill Downs detail all the news and notes related to contenders in one convenient space.
Drayden Van Dyke remembers a smooth trip to begin his first Kentucky Derby — well, as smooth as the wettest first Saturday in May on record can go.
He remembers saving ground and rationing goggles as the mud splashed up on Instilled Regard, the longest shot in the field.
And Van Dyke remembers wishing his father was there to greet him after he bravely split horses a the top of the stretch, then rode on to a fourth-place finish.
"He passed away, unfortunately," Van Dyke, a Louisville, Ky., native said of Seth Van Dyke, a former jockey and exercise rider who died in 2014. Some of the 24-year-old's fondest memories are of spending childhood summers in Kentucky with his dad.
"Hopefully one day I can win the Derby," Van Dyke added. "He'll definitely be on my mind when I cross the wire."
Van Dyke, who has since the Derby won a pair of Del Mar riding titles, is a rising star in California, where he regularly guides top horses for trainers Bob Baffert, Jerry Hollendorfer and John Sadler, among other prominent names.
Still, earning top mounts — and hanging onto them — is a practice in patience. Heading into the 2019 Kentucky Derby, Van Dyke anticipates continuing to ride unbeaten Improbable, the last out winner of the Los Alamitos Futurity (G1) who he calls a "mini-Justify."
"He's half the size of Justify, but he's almost identical to him in character and his stride and stuff," Van Dyke said. "It's cool, because I've been on Justify, and I know how he moves."
Van Dyke was in the irons for the eventual Triple Crown winner's famous February debut, when he blitzed a maiden special weight field while completing seven furlongs in 1:21.86. From there, Hall of Famer Mike Smith had the assignment.
Could we end up saying something similar about Instagrand? Van Dyke rode the unbeaten Into Mischief colt to a 10-length win his debut last summer, the backed that up with a 10 1/4-length score in Del Mar's Best Pal (G2).
"I know for sure I won't ride him back," Van Dyke said.
Larry Best, who campaigns Instagrand under the OXO Equine banner, "just wanted to ride someone different," Van Dyke said.
"It's a tough business," the jockey added. "He seems like he's a really, really good horse. I think he'll be one to watch for."
While Van Dyke doesn't have the afternoon call aboard Game Winner, he drilled the champion in waiting last week. The son of Candy Ride who is, as with Improbable, trained by Baffert and breezed the bullet three furlongs in 35.20 seconds on his return to the work tab.
"Right away we knew he was going to be a good one," said Van Dyke, who also worked the 4-for-4 Game Winner before his debut last summer. "The good ones are honestly a joy to work in the morning and even ride. It makes the job a whole lot easier because you've got so much horse under you.
"You can do whatever you want. Your main job, really, is not get them stopped and get them beat."
Of course, if a young jockey manages that, there's still no guarantee he'll keep the gig. Established horses tend to go to more experienced riders, and the California jockey colony is especially strong.
"You can't really control that," Van Dyke said. "In this business, you've just got to keep smiling — say thanks for the opportunity, good luck down the road, and if you get another one, I'm always ready to ride."
That can be difficult, Van Dyke said, but he's about dispelling negative emotions. All the better to "show confidence in trainers that when the money's down in big races and I'm 1-9, I can get the job done and won't crack under the pressure."
It's what his dad would have wanted.
Screener says…
In Monday's Derby Daily report, we introduced a guide to finding the winner early based on criteria from Horse Racing Nation's Super Screener handicapping system. Here's another tip by author Mike Shutty: Look for positive pace progression in a horse's early prep.
"With the exception of Justify," Shutty says, "each eventual Kentucky Derby winner posted rather modest early pace figures, with the middle pace figure being higher than the early pace figure, culminating into the big Brisnet Late Pace figure. Note that the final Brisnet Speed Rating is not really an important separator here as it is so pace dependent.
"For example, super slow-paced races will yield lower Brisnet Final Speed Ratings."
Justify's the exception because he was geared down significantly in his debut last February. But as we noted Monday, the colt posted a massive mid-race figure — highest for an eventual Derby winner in the points era.
You can get all eight criteria as part of our free guide by clicking the image below: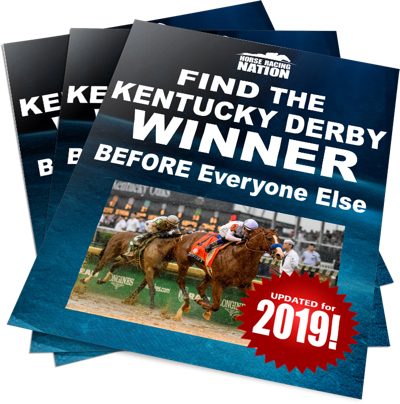 Derby links
• Code of Honor, the beaten favorite in his season debut, will press on to the Derby trail. "I'm going to kind of step up his program a little bit," trainer Shug McGaughey says heading into the March 2 Fountain of Youth (G2). 
• A pair of New York-breds will join the fray for the Feb. 2 Withers Stakes (G3), the Daily Racing Form reports, with Le General an intriguing addition. The Michelle Nevin trainee recently won a state-bred allowance by 6 3/4 lengths. 
• It'll be a big weekend in New Orleans with the Lecomte (G3) running and New Orleans Saints continuing NFL playoffs action. Ahead of a matchup with the LA Rams, coach Sean Payton likened his team's No. 1 seed to a favorable Derby post position.
The works
Bankit — The close Springboard Mile runner-up looks bound for a start in Oaklawn Park's Smarty Jones Stakes on Jan. 25. Another work in that direction Monday clocked five furlongs in 1:01.20.
Long Range Toddy — The Springboard Mile winner is another trained by Steve Asmussen and looking Smarty Jones-bound. He got the 5/8 Monday in 1:01 flat.
Mind Control — The recent Jerome Stakes winner, in his first breeze toward the Withers, went a half mile Tuesday in 48.77 over Belmont Park's training track. In his next start, the colt will up his distance to 1 1/8 miles for the first time.
MIND CONTROL ????looking sharp this past weekend while galloping on the Belmont training track. #jeromewinner #gregsacco #redoakstable #staythirsty #kyderbytrail @TheNYRA pic.twitter.com/wSCet6vZDw

— Janet Garaguso (@jmg27_janet) January 15, 2019


[ad_2]

Article Source