[ad_1]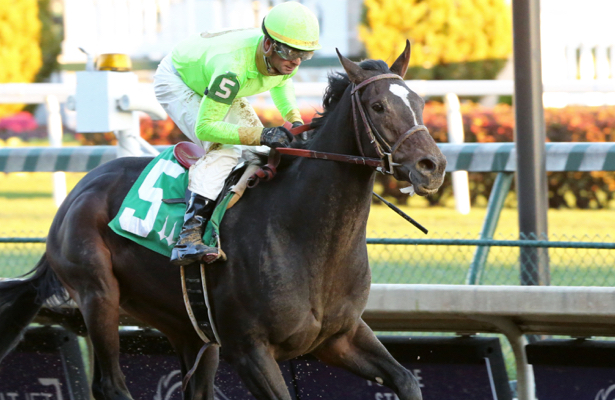 Photo: Coady Photography

Trainer Vickie Foley says that going into last weekend's Lecomte Stakes (G3), Hog Creek Hustle had something to "prove to all the doubters." And while clearly second best to War of Will, the colt contended around two turns on the 2019 Kentucky Derby trail.
"We're looking forward to running in the Risen Star," said Foley, indicating a rematch with War of Will is probable in the Grade 2, $400,000 race on Feb. 16 in New Orleans.
War of Will finished four lengths clear of his competition in the Lecomte, but Hog Creek Hustle had a decidedly rougher trip due to his closing style. The son of Overanalyze rallied wide from eighth in the field of 12 and didn't appear to be losing ground in the final furlong when going on to the runner-up spot.
As for the "doubters," that goes back to Hog Creek Hustle's 10th-place finish in the Iroquois Stakes (G3), the season's first points-paying Derby prep in September at Churchill Downs.
"I basically threw that race at Churchill out because he got knocked around pretty good in the first turn," Foley said. "Being a young horse, and the first time ever going that distance, he just didn't want any part."
Hog Creek Hustle entered the Iroquois off a debut victory at Ellis Park. And he followed it up with an eye-catching allowance optional claiming win Nov. 10 back under the Twin Spires, closing to beat, among others, future stakes winners Classy John and Six Shooter.
From there, Hog Creek Hustle ran third in New Orleans' Sugar Bowl Stakes.
"The track was playing to speed, and we just could not run them down, the other two horses," Foley said, with Smarty Jones Stakes contender Gray Attempt the winner and Manny Wah, third in the Lecomte, the runner-up in the Dec. 22 race.
"I just felt like it was a good spot to get a tightener under him, then stretch him out. That was our plan since Churchill after we won the allowance race."
There's precedent for this path to Churchill Downs for Foley, who in 2002 saddled Sky Terrace for a nose defeat in the Lecomte. That one also went on to run in the Risen Star before winning the Derby Trail (G3).
Hope remains that Hog Creek Hustle could be the horse that gets her barn to the feature on the first Saturday in May.
"I know you could have horses that they say are come-from-behind sprinters," Foley said. "But he proved (Saturday) that he could handle the two turns."
Away from the racetrack, Foley described Hog Creek Hustle as "very calm."
"He's got a lot of sense — class," she added. "Nothing really shakes him. He's just a classy horse to be around. His mannerisms in the barn and in the stall — he's just laid back."
In the four weeks between races, Foley expects two maintenance works and a series of "nice, long gallops."
"He's fit," she said, "but just to keep him in tune."
Campaigned by Patty Tipton and Beth Moore's Something Special Racing, Hog Creek Hustle is named after the stream in Montgomery County, Kentucky, East of Lexington. 


[ad_2]

Article Source