[ad_1]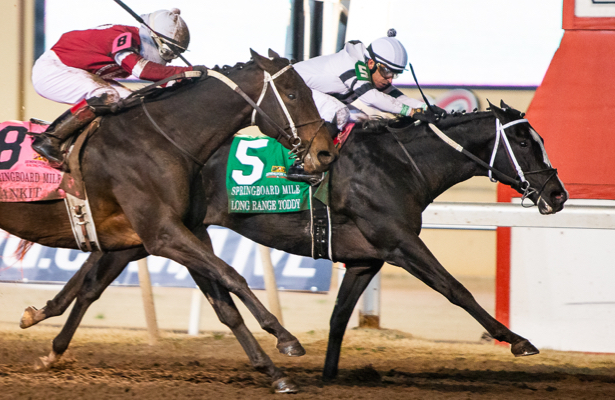 The Friday, January 25, opening day card at Oaklawn Park features the $150,000 Smarty Jones Stakes ,which is an official stop on the road to the 2019 Kentucky Derby that offers qualifying points to the Top 4 finishers on a 10-4-2-1 scale.

Noteworthy winners of the Smarty Jones, which was first run in 2008, include Will Take Charge (2013), Flat Out (2009) and Caleb's Posse (2011). Will Take Charge is the only winner of this race to start in the Run for the Roses and he finished eighth.

The Smarty Jones is carded as Race 8 out of 9 with post time scheduled for 4:52 pm ET. Here is a look at the field of nine with prospective morning line odds by Horse Racing Nation.
 

 Long Range Toddy [ML 9-5 – Take Charge Indy – S. Asmussen/R. Eramia – 4: 3-0-0 – $321,125] This son of Take Charge Indy brings a three-race winning streak to Oaklawn Park. Last time out, he earned 10 Derby points when he sat in a stalking position and then battled down the stretch to take the Springboard Mile by a head over his stablemate, Bankit. All four of Long Range Toddy's previous starts were at Remington Park, but he has been training at Oaklawn Park for the Smarty Jones. The favorite.

 Sleepy Eyes Todd [ML 30-1 – Paddy O' Prado – M. Silva/D. Cabrera – 1: 1-0-0 – $19,545] This gray colt was a longshot debut winner at Remington Park back in October and returns off that nearly three-month layoff to face stakes company. That is a quite an ambitious undertaking. Toss.

 Super Steed [ML 10-1 – Super Saver – J. L. Jones/Thompson – 3: 1-1-0 – $63,500] The son of Super Saver broke his maiden in an allowance race at Churchill Downs in November while sprinting. The victory got trainer Larry Jones thinking about a return to the Derby trail, but Super Steed disappointed as the even money favorite when he was fourth in Fair Grounds' Sugar Bowl Stakes on Dec. 22. He takes another chance while stretching to two turns. Live longshot

 Six Shooter [ML 12-1 – Trappe Shot – P. Holthus/S. Elliot – 7: 3-0-3 – $123,850] This Paul Holthus trainee comes in with lots of experience. He won his most recent start in the Big Drama Stakes at Delta Downs, which was run at 7 1/2 furlongs. The off-the-pace victory was a successful bounce-back from a last place finish in the Springboard Mile. Six Shooter's current connections claimed him for $20,000 out of his career debut. Use underneath.



 Boldor [ML 12-1 – Munnings – S. Asmussen/R. Vasquez – 2: 1-1-0 – $45,700] The second of three Steve Asmussen entries in the Smarty Jones, Boldor was a first-time winner at Keeneland in October at odds of 4-1 in a race in which he beat Super Steed by a head. On a sloppy Churchill Downs track, he was then beaten by Super Steed. He has been off since November and training at Oaklawn. Toss.
 

 Forloveofcountry [ML 20-1 – Sky Mesa – J. DiVito/J. Bravo – 5: 2-0-1 – $87,545] This son of Sky Mesa made three starts on the turf, where he broke his maiden at Del Mar, and then ran in two stakes races. His most recent start in November was an allowance victory on the slop at Churchill Downs. Sometimes turf horses do well on wet dirt tracks, so his handling of fast dirt remains unknown. He too has been off since November. Toss.

 Bankit [ML 5-2 – Central Banker– S. Asmussen/R. Santana Jr. – 6: 2-3-0 – $329,625] This New York-bred made a successful move from restricted stakes racing to the Kentucky Derby trail when he rallied from last place to miss the top spot in the Springboard Mile by just a head. He stays at a mile here in the Smarty Jones. Since earning those four Derby points, he too has been training at Oaklawn Park for Asmussen. Win contender.
 Gray Attempt [ML 7-2 – Graydar – W. Fires/S. Bridgmohan – 3: 2-0-0 – $94,700] He got a stakes win while racing on the lead against a solid field at Fair Grounds in the Sugar Bowl. The Jinks Fires trainee will now have to stretch out to a mile if he is going to have an impact on the Derby trail. Will he continue to press the pace in this route of ground? Use underneath.
                                                           

 Jack Van Berg [ML 20-1 – To Honor and Serve – T. Van Berg/J. Court – 4: 1-1-0 – $60,455] This colt, named to honor the late Hall of Fame trainer, beat a strong field in front running fashion on Breeders' Cup weekend at Churchill Downs. On a sloppy track in his next start, he faded while prompting the pace. Jack Van Berg will face pressure if they decide to go to the lead and he must deal with the added distance. Toss.

Summary: Once again, Asmussen holds a strong hand in this stop on the Derby trail with the Springboard Mile's 1-2 finishers ready to battle it out again a month later.

There appears to be enough speed signed on to set things up for the off the pace runners. This time out, I will give the nod to the New York-bred Bankit to get the win over his stablemate, Long Range Toddy.


[ad_2]

Article Source