[ad_1]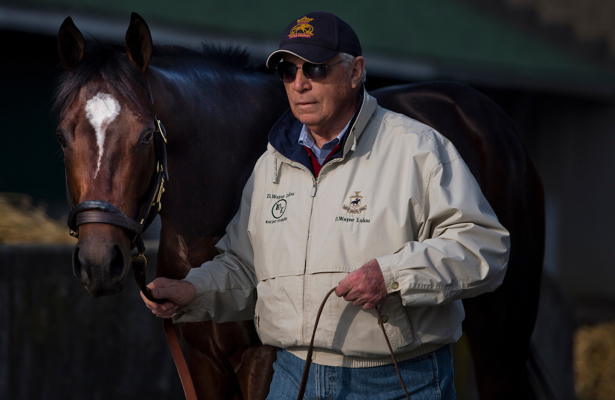 Calumet Farm's maiden 2-year-old

 

Derby Date

 

will need to have a few more afternoon appointments before he lives up to his name. The colt by Will Take Charge worked a bullet 1:01.99 for five furlongs over the Oklahoma training track

 

Sunday

 

morning with jockey Luis Saez in the irons in preparation for his third career start in Monday's Grade 1, $350,000 Hopeful Stakes for juveniles at seven furlongs.

 

Off sharp in his July 28 debut, Derby Date stalked the leaders before tiring to seventh. In his next start on August 11, the chestnut bobbled at the break, but still was able to maintain the lead until he was collared with just a sixteenth of a mile from the wire. Hall of Fame trainer D. Wayne Lukas said he wants his colt ready for anything that may come his way next week.
"I put him in behind horses [in his breeze] to let him catch a little dirt and everything, Lukas said. "You break like he did, you get three, four lengths in front, you don't really find out anything about your horse except that he can run. The next race, he catches three or four in front of him and you say, 'Oh my God, now he's out in the back.' You've got to get them that experience here, not on Monday afternoon."

 
Besides flashing speed, the sleep-loving Derby Date is a bit lackadaisical when he's not running, Lukas said.
"I just think he's a pretty talented horse," Lukas said. "He's a real laid-back horse; a quiet horse. He's so laid back you almost worry about him. When he ran the other day Luis [Saez] told me that thought he's [wasn't] going to beat anybody, when he went in the gate, he drooped. Then he thought he might not break. He was really concerned. 
"You can bring him out here, drop the shank, let him graze a little while and go get him a half an hour later. He doesn't care about anything. When the gates open he's got it on the mind, but he'll get over that a little bit. He'll be a little more focused, but he's awfully laid back, it almost [makes me] worry."
Lukas looks to win his ninth career Hopeful

 

next Monday

 

as he seeks his second straight with Derby Date after he and Saez teamed up to win last year with Sporting Chance.

 
"I expect a real big effort, I really do," Lukas said. "He had two outs. One that I don't count [and] one that was very good, just a bad job by the trainer. He got tired. You look at the replay, he did everything right except he got tired and that's my fault not the horse's fault. He got tired, which is correctable, and it will be. He won't be tired."



[ad_2]

Article Source