[ad_1]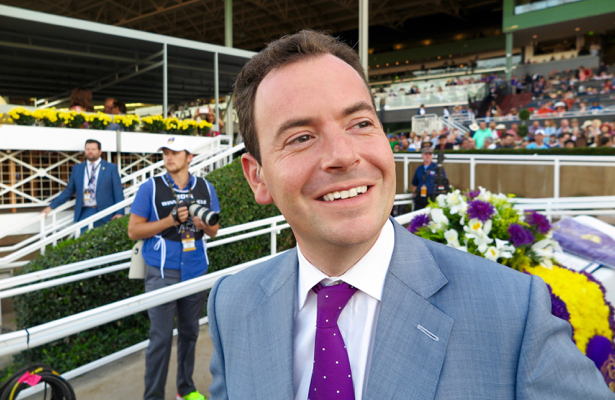 Photo: Courtesy of the NTRA

The National Thoroughbred Racing Association announced Friday that award-winning NBC Sports and Racing UK broadcaster Nick Luckwill host the 47th Annual Eclipse Awards presented by Daily Racing Form, Breeders' Cup and The Stronach Group, on Thursday, January 25, at Gulfstream Park in Hallandale Beach, Fla.
"It is really a huge honor to be asked to present an event as prestigious as the Eclipse Awards," said Luck, who has been voted the Horserace Writers' and Photographers' Association's Broadcaster of the Year seven times in the last 10 years. "I have been lucky enough to be a part of NBC's horseracing coverage for several years – these experiences have been made all the more enjoyable by the generosity of my friends and colleagues in the U.S. racing media. Hopefully, I can do them justice next month. Having worked for several years with Jeannine, I know I have a very hard act to follow."
Luck will replace longtime Eclipse Awards host Jeannine Edwards, who recently announced her retirement from ESPN and will undergo rotator cuff surgery in January.
Luck, 39, has been broadcasting for 16 years. He rose to prominence as the main host of Channel 4's 'Morning Line' live weekly magazine show from 2010, and, from 2013, the lead presenter of Channel 4 Racing, either solely or alongside Clare Balding. In 2015, he fronted the network's live coverage of the Grand National, a four-hour broadcast which drew an audience of over 9 million viewers and which received the prestigious 'Broadcast' award for Best Live Sports Programme as well as a Royal Television Society nomination for 'Best Live Event.' Nick also anchored the Derby, Royal Ascot, Glorious Goodwood and all other major events until the network's franchise ended in 2017.
He currently hosts the popular weekly show 'Luck on Sunday' for Racing UK in addition to all their major events, and has recently been heard as the voice of BBC Sport's Equestrian coverage.
Luck began working as a reporter on the Breeders' Cup World Championships in 2006 for ESPN, and continued as a reporter and analyst on the ESPN telecasts through 2011. Since 2012, Luck has been a part of the NBC Sports broadcast team of the Breeders' Cup, and has also been reporter, analyst and host of Breeders' Cup Challenge series programs on NBC and NBCSN. In June, Luck hosted the first NBCSN live coverage of the Royal Ascot meeting, and will be a part of NBC's Broadcast team for the Pegasus World Cup.
"We are so delighted to have Nick Luck – whose racing knowledge, sharp presentation, and quick wit have made him one of the most respected racing broadcasters in Great Britain and in North America – as our Eclipse Awards host this year," said NTRA President and CEO Alex Waldrop. "On behalf of the presenting organizations, we also would like to thank Jeannine Edwards for her outstanding work as Eclipse Awards host the past six years, and congratulate her on a marvelous 22-year run with ESPN. We look forward to her being a part of the Eclipse Awards in the future."
Luck, who lives in London, has also worked for ITN, Equidia and Eurosport, and has been a contributor to the Evening Standard, Sunday Telegraph, The Guardian, as well many specialist racing publications.
Luck was the keynote speaker at the inaugural Equestricon in Saratoga Springs, N.Y., this past summer.
Eclipse Awards tickets are available for $425 each or $4,000 for a table of 10. Blocks of rooms have been reserved for Eclipse Awards guests at the Turnberry Isle Miami, Autograph Collection. The NTRA group rate is available through today and additional details can be found on the NTRA website at NTRA.com/eclipse-awards.
Eclipse Awards voting is conducted by the National Turf Writers and Broadcasters (NTWAB), the National Thoroughbred Racing Association (NTRA) and Daily Racing Form. The Eclipse Awards ceremony is produced by the National Thoroughbred Racing Association.
The Eclipse Awards are named after the great 18th-century racehorse and foundation sire Eclipse, who began racing at age five and was undefeated in 18 starts, including eight walkovers. Eclipse sired the winners of 344 races, including three Epsom Derbies.
Source: NTRA news release


[ad_2]

Article Source