[ad_1]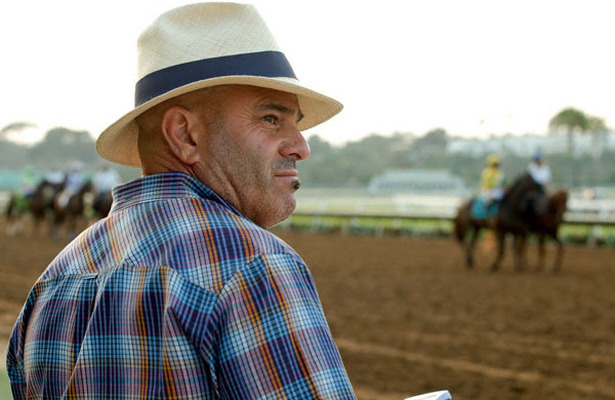 Photo: Benoit

It was only a week ago that Peter Miller became repeater Miller by saddling Stormy Liberal and Roy H to Breeders' Cup wins in the Turf Sprint and Sprint – the same two horses in the same two races he'd taken a year earlier when the event was held at Del Mar.
And now Miller, appreciative of but unfazed by his Breeders' Cup success, has the opportunity to decompress at his nearby Encinitas home and supervise the training of the roughly 70 horses he has stabled here through a Del Mar fall racing session in which he has been a towering figure since its inception in 2014.
The 16-day meeting, which began Friday, will be conducted on a four-day-a-week basis through December 2.
"You can't anticipate winning two Breeders' Cup races, ever," Miller said earlier this week on the observation stand overlooking the backstretch of the track. "They're just too tough. They're too loaded with good horses.
"I felt we'd win one with Roy H, but I didn't know with the three turf horses I entered how they'd handle the soft grass (at Churchill Downs). Richard's Boy (13th) and Conquest Tsunami (11tg) didn't handle it at all. But Stormy is just a beast and he'll run on anything. It doesn't matter to him — just put a horse in front of him and he'll go get it."
There was celebration in the immediate aftermath, Miller said. But it was back to routine in a matter of hours.
"Nothing really changes," Miller said. "The life of a horse trainer is pretty consistent. You go to bed early, wake up and go to work. You have the same problems you did when you went away and some new ones.
"Obviously, it's a great feeling and a great accomplishment for satisfaction. But other than that, not a whole lot changes. People think you'd have a lot of people calling you with horses for you to train, but that doesn't happen. All my business is word of mouth. People that come recommended by people I know well."
Celebrity? Not exactly.
"You do get recognized a little more at airports and other places because you've been on television. But that's not a big deal to me."
He's content that a meeting in which he dominated since its inception is starting. Miller won the inaugural fall title in 2014 and ran away by eight and 10-win margins the last two years. He tied for second in 2015, coming up two wins short of Doug O'Neill.
"I love this meet," Miller said. "It's hard to say, but I almost like it more than the summer meet. It's got a great feel, a great vibe. Not as crowded, not as much stress and pressure as the summer. The days are not as long. You get done at a more decent hour.
"I love this meet and I think it has been a real addition to the calendar for Southern California racing. A much needed addition to the calendar."
Miller needs four victories to reach the 1,000-win mark in a 31-year training career. Considering that he has averaged 15.75 wins per fall season, it's a safe bet he'll do it here and soon.
"That will be great. This is home," Miller said.
He is not, however, expecting to leave the other trainers in the dust on a title run like he did last summer and the past two fall sessions.
"We've run hard all year and I don't think we're going to be as busy as we have been the last couple fall meets here," Miller said. "But I'm happy with what we've got. I think we've got some very live horses and I think we'll win some races."


[ad_2]

Article Source