[ad_1]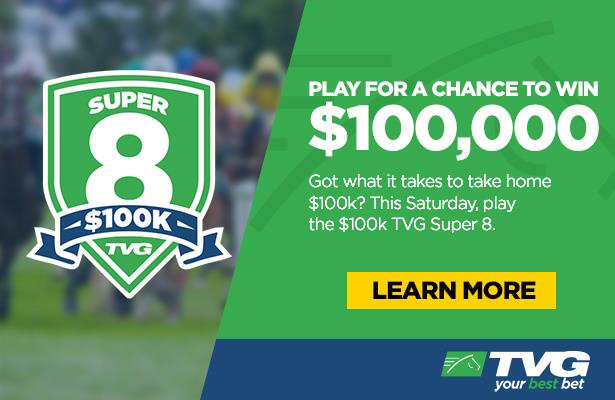 Last month, three players took down TVG's $100,000 Super 8, the free-to-play contest that tasks players with picking winners in eight straight races.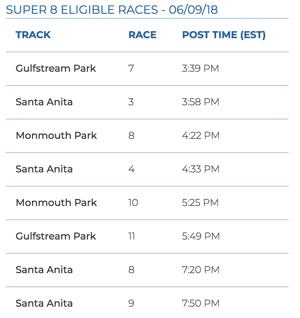 So, who's up for $100,000 this Saturday? Consolation pools also exist for those who pick five or more Super 8 races correctly.
 
To play, join TVG today, and be sure to use promo code "Super8" to double your first deposit up to $75 toward real money wagering. Entries close at 3 p.m. ET Saturday.
Here's who HRN handicapper Reinier Macatangay likes to win the TVG Super 8 races:
Gulfstream Race 7 – Optimistic Shot (2-1)
There is a reason why people avoid bottom-level claimers. This filly, for instance, is inconsistent in her speed figures while scoring between 56 and 82 in her past five starts on TimeformUS. But the Barboza/Jaramillo combination is given a 100 rating and hits at a high 34 percent. Furthermore, Optimistic Shot does not need the lead, which is helpful given the Pace Projector sees a fast pace coming.
Santa Anita Race 3 – Mayan Warrior (5-1)
When picking out a first time starter in a five-furlong race, it helps to choose one with a sprinter-oriented family. TimeformUS indicates the dam of this colt, Beat the Blues, made all 22 starts in sprints. Her highest figure was a 116 as well, which indicates the dam had talent. For comparison, Two Fifty Coup starts in this race for Jerry Hollendorfer and his dam, Coup, made all eight starts routing. It is unlikely Two Fifty Coup would enjoy a short sprint race like this. Also note the June 4 workout for Mayan Warrior, a bullet 47 1/5 (best out of 55). He is ready to run.
Monmouth Race 8 – Ben of the Bridge (6-1)
Tough race. The Pace Projector thinks the pace will be hot, and Ben of the Bridge is slated to come from midpack. He is capable of breaking 100 on the speed figure scale and draws a cozy inside post position. Admittedly, without the pace angle this race would become a complete guess. Large-field turf races mean horses are more likely to get caught up in traffic, especially closers. He needs some luck.
Santa Anita Race 4 – Cajun Treasure (5-1)
Brutal maiden turf race. The Eurton/Conner combination for this colt is 2-for-5 over the past year. In two starts, Cajun Treasure stalked the pace closely and finished fourth and second. Five out of six siblings are six-figure earners, which is impressive. This will be his third start, so there is room to go up.
Monmouth Race 10 – Lift Up (6-1)
As with with the other Monmouth race above, the Pace Projector designates the pace as fast. Lift Up is slated to come from off the pace and owns a very competitive 118 TimeformUS Speed Figure in his last start. Plus, the Dickinson/Pino combination is 2-for-5 over the past year, and 5-for-5 hitting the board. Note the horse's 8: 4-2-1 record as well. This is a consistent filly with likely a bright future.
Gulfstream Race 11 – Rethinkme (5-1)
TimeformUS labels the trainer R. Crichton as "Hot" overall and at Gulfstream, too. The Crichton/Gonzales combination is hot as well, hitting at 43 percent (out of seven tries over the past year). This runner's TimeformUS Speed Figures fit, as she is likely to throw something in the high 70s. Compare her last two numbers — 77 and 79 — to the favorite Peart, who earned a 76 in her last start.
Santa Anita Race 8 – Miss Siena (4-1)
Turf racing fans will love the Super 8 sequence lined up. In this turf race, Phil D'Amato acquires a European runner, and as seen many times before horses tend to move up under his care. Her overseas record does not look that interesting or impressive, but sometimes horses also move up here simply because of Lasix. Rafael Bejarano sees fit to ride, so this filly is probably a good one.
Santa Anita Race 9 – Talent Scout (4-1)
Talent Scout makes his return for Bob Baffert in this allowance sprint, and he should be taken seriously considering he broke his maiden with a 108 TimeformUS Speed Figure. A few of these horses earned numbers higher than 108, including stablemate McKale, but Talent Scout did so as a 2-year-old in October. With normal growth and maturity, a faster number can be expected. The Pace Projector places him in third early, just off an expected hot pace. Bright future as well. 


[ad_2]

Article Source