[ad_1]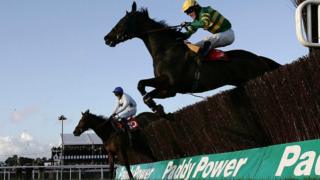 Gambling firm Paddy Power Betfair has said it is in talks over a merger in the US with fantasy sports site Fan Duel.
Talks centre around combining its US operation with Fan Duel to create a business to "to target the prospective US sports betting market".
It comes as the American Supreme Court overturned 1992 legislation that banned sports betting in most US states.
Fan Duel allows sports fans to gamble on fantasy sports leagues and contests.
Merger abandoned
It offers fantasy sport gaming around NFL American Football, MLB baseball, NBA basketball and NHL ice hockey. There are estimated to be around 30 million adult fantasy sports players in North America.
Players choose which contest they want to enter, build fantasy sports teams that do not breach a fantasy salary cap, and engage in head-to-head or multi-player contests.
Players pay an entry fee for each contest and compete for cash prizes.
The company, which was founded in 2009, is based in New York and has about 400 employees.
A proposal to merge with rivals Draft Kings was abandoned last year, after being blocked by the Federal Trade Commission on the grounds that the combined firm would control a 90% market share.
Since the Supreme Court ruling on 14 May Draft Kings has signalled its intention to enter the sports gambling market.
Horseracing channel
Paddy Power Betfair entered the US fantasy sports market last year with the acquisition of Draft, a US fantasy sports site, for $48m (£35m).
The Dublin-based gambling firm already has a US division, which includes the TVG Network, a horseracing TV channel and online betting network which is active in 35 states.
And in the state of New Jersey, the company has an online casino and a horse racing betting exchange.
A merger with Fan Duel would give it access to millions of potential sports betting fans.
Neil Wilson, chief analyst at markets.com, said betting firms were already jockeying for position after the Supreme Court ruling.
"Fan Duel rival Draft Kings has already said it will enter the sports betting market and there is some sense that local incumbents may be able to gain significant market share before UK and European operators get a chance to mobilise their forces," he said.
[ad_2]

Article Source