[ad_1]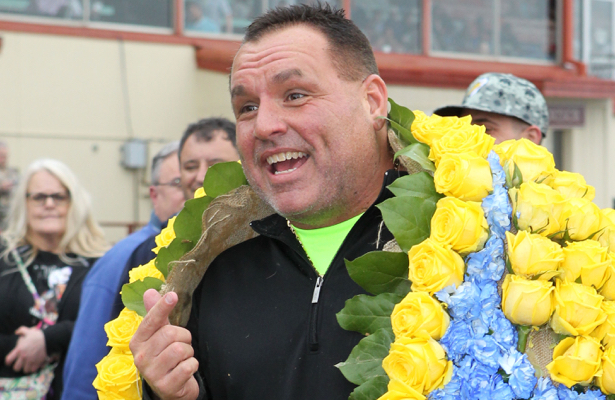 Photo: Coady Photography

Since announcing in July his intentions to step away from ownership, Ron Paolucci, a national leader in wins who campaigns under the stable name Loooch Racing, has softened that stance.

"I'm gonna stay in," Paolucci said Thursday. "I'm upgrading the quality and downgrading the quality."
According to Equibase, Loooch Racing ranks second in North America in starters (832) and wins (199) behind only Karl Broberg's End Zone Athletics in both categories. Looking forward to 2019, however, Paolucci expects to drop from 120 or so horses in training to around 60 or 70.
"I've got a few more things I want to accomplish," he said. "Honestly, I don't know how long I'll stay in the game. It's very taxing.
"…At some point it's just hard to keep that pace up — 700, 800, 900 starters a year. I've done it for a couple years now. It's very time consuming and very taxing on you."
Paolucci didn't send horses to Louisiana's Fair Grounds this season, while he had 20 there last year. His ventures in California will also decrease with the stable's renewed focus on Florida and Paolucci's home state, Ohio.
Among Paolucci's goals are to win the Ohio Derby (G3) at Thistledown, as well as to register a second Breeders' Cup victory following Ria Antonia's score in the 2013 Juvenile Fillies.
When deciding to stay in the sport — at least as an owner; Paolucci always planned to continue betting — he considered his trainers and the staffs that work for them.
"It would definitely have a huge financial impact on these folks," he said. "When I looked at that, I was like, maybe I need to tough it out, have a little thicker skin and realize that I'm never going to change the sport. I've just got to keep doing what I'm trying to do. I need to keep my mouth shut and my ears open and just not take everything so personally."
Often outspoken, Paolucci says he'll "go to my grave saying horse racing needs a commissioner," and he suggested a group of national stewards who review inquiries and objections similar to the centralized replay system seen in Major League Baseball.
It was a controversial call at Thistledown that Paolucci once considered his "final straw" earlier this year. In 2017, he was also irked when the Breeders' Cup denied his entry for what would have been a first time starter.
"It's not a sport at this point that wants to be changed," Paolucci said. "If it did, the factions that were in the lead as far as being able to change it would do so. But they don't need to, because they're so wealthy, most of them, that they're doing it is a hobby, not as a living."
So Paolucci will trudge on. Here's a glance at horses he's looking forward to spotting in major upcoming races:
Heavenhaskmynikki, a 3-year-old filly who ran in the Kentucky Oaks, has won three of her last four starts. Ahead is the Grade 1 La Brea on Dec. 26, opening day at Santa Anita Park.
"She had a little chip removed from her ankle that had really been bothering her," Paolucci said. "We took that out, and she beat older three starts back and got a figure that makes her probably good enough to be competitive in the La Brea."
Uno Mas Modelo could be a Dubai World Cup contender for Paolucci. First, the recent winner of Churchill Downs' Bet on Sunshine Stakes will tackle Gulfstream Park's Claiming Crown.
"He's one of the reasons that I like staying in the sport," Paolucci said. "I purchased him privately for a very, very small amount. He's capped off three out of four wins, won an open stakes at Churchill last time and got a 102 Beyer."
Paolucci considers Mo Dont No "my favorite horse I've probably ever owned." He'll take on, among others, Kentucky Derby third-place finisher Audible in Gulfstream Park's Grade 3 Harlan's Holiday on Dec. 15.
"If he fares well there, he'll take my spot in the Pegasus (World Cup)," Paolucci said. "If he doesn't, we'll have to look for a Plan B."


[ad_2]

Article Source