[ad_1]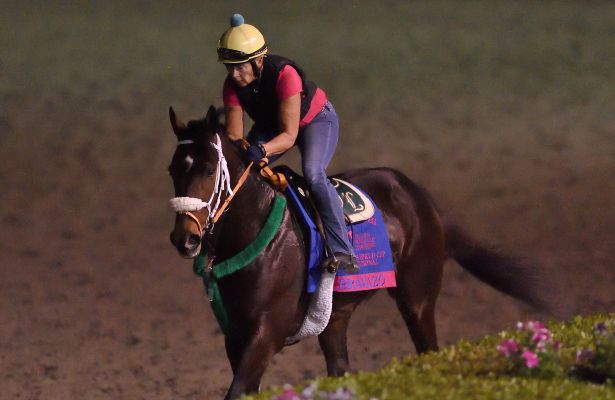 Photo: Lauren King

Japanese Group 1 winner Aerolithe and Grade 2-winning millionaire Bravazo each got acquainted with the Gulfstream Park surface on a rainy but busy Sunday morning for horses pointing to the $16 million Pegasus World Cup Championship Invitational Series Jan. 26.
Calumet Farm's Bravazo was first on the track at 5:45 a.m., less than 24 hours after being driven by Hall of Fame trainer D. Wayne Lukas from their winter base at Oaklawn Park in Hot Springs, Ark. Bravazo will make his 4-year-old debut in the $9 million Pegasus World Cup Invitational (G1), the richest race in North America.
"The first morning out there you just want to see how he handles everything, and we went real light because it was a 22-hour van ride yesterday," Lukas said. "It was an easy little gallop just to let him see things."
Bravazo ran 11 times in 2018 with three wins, led by the Risen Star (G2). He went winless in his last nine starts but finished second in the Preakness (G1), Haskell (G1) and Clark Handicap (G1), the later Nov. 23 in his most recent outing. He also ran third in the Travers (G1) and Breeders' Cup Dirt Mile (G1) behind fellow Pegasus contender City of Light.
"I wouldn't worry about him. We put him in the trailer and he's used to it. He eats well on the trip, we give him plenty of room, and he handles that very well," Lukas said. "I keep thinking we should take a break maybe and miss a race or two and the next thing I know he's feeling so good and jumping around. He's actually trained really well coming into this one. This two months, two and a half months, is probably the longest break he's had."
Record-setting two-time Championship Meet-leading rider Luis Saez has the mount in the Pegasus.
Trainer Takanori Kikuzawa was aboard Sunday Racing Co., Ltd.'s Aerolithe for similarly light exercise over Gulfstream's main track. The 5-year-old mare, in quarantine since arriving in South Florida before dawn Jan. 16, will make her international debut in the $7 million Pegasus World Cup Turf Invitational (G1), the richest grass race in North America.
"This was the first time for her to be around horses for quite a while after being in quarantine, so she was a bit perked up and looking around," Kikuzawa said through interpreter Kate Hunter, Pegasus World Cup field representative for the Japan Racing Association. "She got kind of startled at the grandstand a little bit, but she settled down and she cantered really smoothly, an easy-going canter, so I'm very happy with her condition."
First or second in nine of 13 career starts, Aerolithe has beaten males before in the 2017 NHK Mile Cup (G1) as a 3-year-old and the Mainichi Okan (G2) Oct. 7 at 1 1/8 miles. Florent Geroux has the call on Aerolithe for the 1 3/16-mile Pegasus Turf.
"Japan has so many good horses," Kikuzawa said, "but I think we have a very good chance and will represent Japan very well."
Stronach Stables' multiple graded-stakes winning homebred Something Awesome put in his final work for the Pegasus Sunday at Gulfstream, going five furlongs in 1:00.20 over a muddy main track. It was his third local breeze since leaving Laurel Park in Maryland Christmas Day.
Something Awesome won the Charles Town Classic (G2) and Harrison E. Johnson Memorial last year going the Pegasus distance of 1 1/8 miles, both under Hall of Famer Edgar Prado, who will ride in the Pegasus. The 8-year-old gelding – like Bravazo, a son of Awesome Again – also captured the seven-furlong General George (G3).
"The horse has settled very good so far. I'm glad … the team decided to bring him over here earlier, because it looks like he needed it coming out of the cold," trainer Jose Corrales said. "It's like when they run on the sand and they come back tired, but he's settled pretty good and I'm happy with the progress."
Entries will be taken and post positions drawn for both the Pegasus and Pegasus Turf Tuesday, Jan. 22 at Gulfstream Park. The draw can be viewed at GulfstreamPark.com and Facebook.com/GulfstreamPark.
Tom's d'Etat Breezes Sunday at Fair Grounds for Pegasus
GMB Racing's Tom's d'Etat, six days before making his graded-stakes debut at age 6 in the Pegasus, had his final timed workout Sunday at Fair Grounds, blowing out an easy half-mile in 48.40 seconds Sunday under jockey Shaun Bridgmohan.
The work, which came after the mid-morning track renovation break, was eighth-fastest of 80 horses at the distance. In his previous breeze Jan. 12, Tom's d'Etat went five furlongs in 1:00, fastest of 77 horses.
"His last work was the work that focused on getting him ready for the race," trainer Al Stall Jr. said. "This work was just part of the schedule, kind of did enough to get a day off tomorrow. Looked like he always does, like he was just galloping, going around there with the greatest of ease. So we were really happy with it. Shaun was happy."
Stall said that Tom's d'Etat will train Tuesday morning at Fair Grounds before flying out later in the day to South Florida. He'll be on the same flight as Pegasus favorite Accelerate, the Breeders' Cup Classic (G1) winner and finalist for 2018 Horse of the Year.
Tom's d'Etat's promising career has been sidetracked by ankle issues. He ran and won his first stakes in Fair Grounds' Tenacious Stakes, giving him six wins in nine starts. Stall said he's looking forward to how Tom's d'Etat stacks up against the likes of Accelerate and Dirt Mile winner City of Light.
"The big two favorites will be from California, deserving favorites and both Breeders' Cup winners," Stall said. "We knew what the field was going to look like a few weeks ago, and everybody looks like they're coming into the race the right way. It will be exciting, and hopefully a really good race for us.
"He just deserves a chance," he added. "He's always deserved a chance. Things just didn't materialize early in his career. He's in top shape right now, so we're going to take a shot."


[ad_2]

Article Source