[ad_1]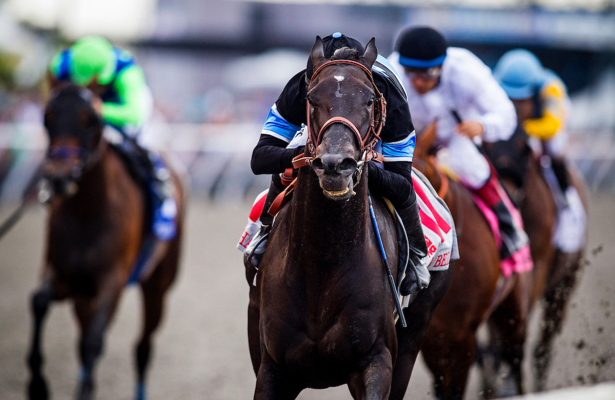 Trainer Murat Sancal has put 15 workouts into the full brother of the late Shared Belief with the goal of getting him to the races in November. But the question remains: Where?

Sancal said the 2-year-old colt, Shared Legacy, could run at Churchill Downs where he is now based, but that "big trainers" from the West Coast — it's too soon for him to disclose who — have been in contact.
"I want the best thing for the horse," Sancal said. "Who knows? We may have some partnership, and the horse may go to California."
Sancal, who works with owner Arif Kurtel, said that sometime in October connections will know where to expect Shared Legacy's debut.
Shared Legacy, then known as Hip 153, did not meet his reserve price at the 2017 Keeneland September Yearling Sale, hammering for $1.9 million. Kurtel also reportedly spurned a $1.7 million offer for private purchase.
Sancal said it's unlikely the Turkish businessman parts with Shared Legacy, one of his 1,300 or so horses.
"There's always been an interest," the trainer said. "The horse looks good and is training nice. If he's any good at the races, he'll probably be a good stallion prospect."
As with Shared Belief, Shared Legacy is a son of Candy Ride out of the Storm Cat mare Common Hope. Kurtel purchased Common Hope in foal for $125,000 back in 2011 — before Shared Belief won five Grade 1 races and earned nearly $3 million.
A gelding, Shared Belief died in 2015 after a bout of colic. Shared Legacy is a colt.
"That horse was a monster, and we are hoping this horse is going to be something good," Sancal said. "The things that that Shared Belief was, this one's the same way. If he doesn't like something, he doesn't like something. But the way they stay in the stall, the way that they train, the way that they move — you can see it."
Shared Legacy last worked Sept. 9, clicking through a half mile at Churchill Downs in 49.60 seconds. Sancal also trains the half sister, a daughter of Victory Gallop, who makes her third career start Friday at Churchill Downs in maiden special weight company.
"That filly, a chestnut, is definitely a different kind of horse," Sancal said of the connection to Shared Belief.
As for Shared Legacy, "He's a very solid horse," Sancal added. "He has no problems at all. We're just taking our time with him. He's very smart — good conformation. I feel like he's going to be special, just like his brother. We're not pushing him to be ready."


[ad_2]

Article Source