[ad_1]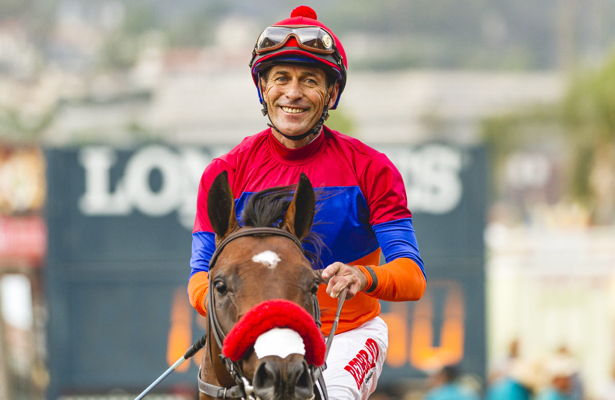 Photo: Courtesy of Del Mar

Gary Stevens, who made his mark as one of America's top riders of all time during a 32-year Hall of Fame career, hung up his tack for good this week following a back injury he suffered during a pre-race warmup at Del Mar last Saturday.
The 55-year-old native of Caldwell, Idaho, won 5,187 races between 1979 and 2018 despite twice "retiring" – once for seven years – and going through a series of serious injuries and surgeries. His purse earnings totaled $258,213,868, ninth best among all jockeys. He won nearly 500 graded stakes, mostly in the United States but also in Canada, Europe, Dubai, Japan and Hong Kong. He won even 100 stakes at Del Mar, third-best on the track's ledger.
Stakes win No. 100 came last September 2 aboard King of Speed in the Del Mar Juvenile Turf.
On the occasion of No. 100, Stevens remembered stakes win No. 1, when, at age 22, he rode Tsunami Slew to victory in the 1985 Eddie Read Handicap for trainer Ed Gregson.
"Tsunami Slew would get really nervous and wash out, but I got along really good with the horse in the mornings," Stevens said. "I warmed him up before the race and he started to get a little bit nervous so I walked him over to the outside fence, where there was a hedge in those days. He stuck his head in there and started eating the leaves.
"I just let him, but I was thinking Eddie Gregson is probably wondering what the hell I'm doing right now and I hope these things aren't poisonous.
"He chilled out and walked to the gate and we went wire to wire. I remember the race like it was yesterday. He was a cool horse, but he was a little nutso. Sometimes the Seattle Slew came out in him."
His final victory came last Friday in the eighth race aboard Friendly Steve ($10.40) for trainer Blake Heap. It was achieved wire-to-wire by 6 ¾ lengths.
Del Mar will honor Stevens Saturday with a special ceremony between races.
"We hate to see him retire, but he's had a brilliant career and he's always been there for us," Del Mar Thoroughbred Club CEO Joe Harper said. "He has always shed a good light on our sport.
"As a friend, you hate to see such a career come to an end, but we all respect the decision. And we hope  and anticipate we'll still have him around, in some capacity, the sport he has served so well."
The list of Stevens' racing accomplishments goes on and on.
The Hall of Fame calling came in 1997 and the following year he won an Eclipse Award as the nation's leading rider; he was the nation's leading rider by purses in 1990 and 1998; he won three Kentucky Derbies, three Preaknesses and three Belmont Stakes; he won 10 Breeders' Cup races; he won a record nine Santa Anita Derbies; he won 16 different riding titles at various  race meets, including two at Del Mar; he won 635 races at Del Mar, including three editions of the $1-million Pacific Classic, and he rode scores of champion racehorses with a savvy and competitive fire that is virtually impossible to quantify.
Away from the track, his accomplishments ranged far and wide also. He was voted the prestigious George Woolf Memorial Jockey Award by his peers in 1996; he played the role of Woolf in the Oscar-nominated movie "Seabiscuit;" he was voted president of the Jockey's Guild in 1997; he was a racing commentator for NBC and HRTV; he was one of the stars of the HBO series "Luck" in 2012, and he was a well-spoken representative of the racing community hundreds of times on national television over the years.
Stevens and his wife, Angie, have a daughter. He also is the father of two daughters and two sons by an earlier marriage.
Wednesday night, Stevens posted on his Twitter account: "On the eve of Thanksgiving, let me just say how thankful I am to everyone in my life and career that has made it so amazing. No one has more to be thankful for than myself! It's been a good run, better than I ever could have imagined. Thank you!


[ad_2]

Article Source