[ad_1]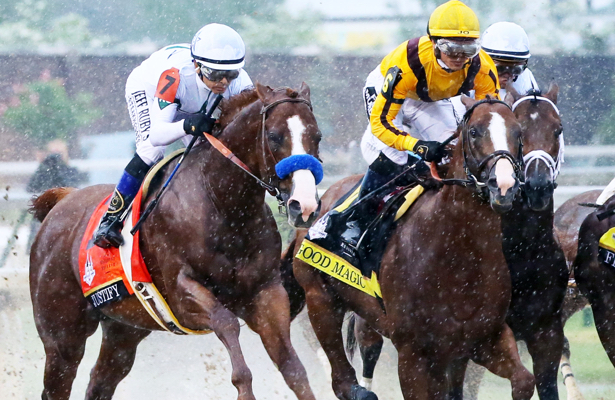 Photo: Coady Photography

I love the horses, but I also love the sport. That's why I was so pleased to see the decisions made concerning the next race for a pair of the nation's top three-year-old males. Good Magic is Preakness bound, while Bolt d'Oro will be heading to New York for the Met Mile. I believe these choices are good for the sport.
The first part of that is more obvious. The undefeated winner of the Kentucky Derby has already scared off some of his competition. Racing's Middle Jewel was in danger of being a mismatch. Justify looked great in defeating a strong field on the first Saturday in May, and despite the rain, it was a celebratory race for the industry. It also was one that identified the winner as something special. Just how special is now the question, and while it would be nice him stride to Belmont Park with a Triple Crown on the line, I did not want to see him at 1-20 in the Preakness.
The addition of Good Magic to the field at Pimlico ensures that this will not happen. While Justify moved to the head of a strong class, the Juvenile Champion also ran big in the Derby. Without as much natural speed as the unbeaten winner, the son of Curlin still chased a fast early pace, while wedged in between horses. He even lost a bit of position on the far turn, before mounting a strong bid as the field of 20 came spinning into the Churchill Downs homestretch.
Off that big performance to be second in America's most prestigious horse race, it would have been easy for trainer Chad Brown and the ownership team of e Five Racing and Stonestreet Stables to back off the Triple Crown trail and spread out their stable star's schedule. That is not what they did.
Brown, notorious for giving his horses time between races, has decided to challenge Justify again, this time in Baltimore. Suddenly the Preakness is a much more interesting race than I feared it might be a few days earlier. Brown has some very good reasons for making the decision — he won the race last year with Cloud Computing, and more importantly, Good Magic continues to thrive, just as he did before the Derby — but it remains a very sporting decision.
The Triple Crown is our most coveted chunk of racing in the States, and it is also when a large TV audience tunes in. The Preakness, despite it's placing of only two weeks after the Kentucky Derby, should never be the weak step child of the trio. It deserves to be a big show with big horses. Justify and Good Magic Part II fits the grandeur of racing's Middle Jewel.
Meanwhile, Bolt d'Oro has already tested Justify on back-to-back occasions. The results were decidedly one-sided. I still believe that the son of Medaglia d'Oro is a very good horse. He is a colt of Grade 1 caliber, but because of ability, distance, running style, whatever it may be, I had little confidence that he was going to get by his new rival anytime soon. While I am glad that owner/trainer Mick Ruis at least considered the Preakness, I believe he made the right decision in looking instead to the Met Mile.
The Grade 1 Met Mile, to be run on June 9 as part of the Belmont Stakes card, is one of the best races of the year for older males, in my opinion. One-turn over the mammoth main track at Belmont Park offers a wonderful mix of talented sprinters against top-level handicap horses. It also brings together horses with top early season form against horses gearing up for a big second half. The only thing it has been missing in recent years is some top three-year-olds sprinkled into the mix.
Once won by such young stars as Sword Dancer, Arts and Letters, Conquistador Cielo, Gulch, and Holy Bull, the $1.2 million affair has seemingly fell out of favor for connections of strong sophomores. I wish that wasn't so.
Not only do talented three-year-olds like Bolt d'Oro add a level of intrigue and class to the Met Mile, but they also hold a couple of advantages over their older competition. First off, while many of the nation's best older horses are only beginning to gear up for summer and fall campaigns, their younger counterparts are further along in their seasonal conditioning, having already made the push to be prepared for the Derby.
Perhaps more importantly than that, though, is the substantial break in the weights three-year-olds get against older this time of the year. Getting a pound or two is one thing, but Bolt d'Oro will be getting much more than that from the top older horses in the Met Mile, and that will matter.
In fact, Bolt d'Oro seems to fit this race perfectly. He is full of class, has tactical speed, and possesses a strong turn of foot. Against Justify, it wasn't good enough, especially at ten furlongs in the slop, but back at a mile, and getting all that weight, he will have a big chance to return to the winner's circle. I believe it will be a better chance than he would have had in the Preakness, while still in an extremely prestigious race.
Two horses, two different races, and two decisions have made both big races better. They also give the horses a real chance to win career defining type of races. And best of all, Good Magic to the Preakness and Bolt d'Oro to the Met Mile is good for the sport.


[ad_2]

Article Source