[ad_1]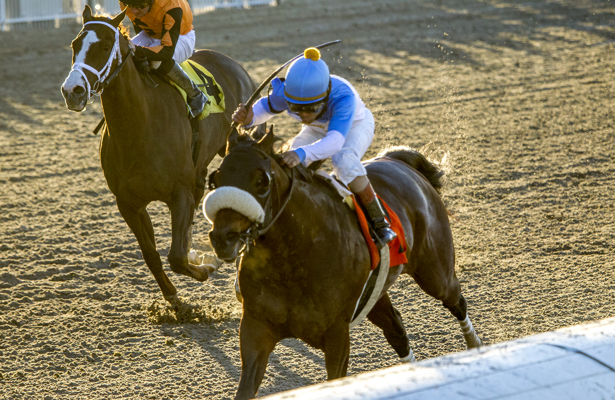 Photo: Hodges Photography

The fact that G M B Racing and trainer Al Stall Jr. are catapulting Tom's d'Etat into Gulfstream Park's Grade 1, $9 million Pegasus World Cup Invitational on Saturday off victory in a minor stakes is all you need to know about their belief in the 6-year-old six-time winner, who has made only nine starts and never more than four in a year.

"We've always known he's a special talent," Stall said. "There are a lot of things that point to that: His race record, his (speed) figures, things like that are head and shoulders above a normal racehorse. He's just a horse that, unfortunately, had a few nagging injuries over the years. He's actually a really good moving horse, a clean-legged horse, and he's just had some ankle stuff that has flared up from time to time. The good ones overcome it. Obviously, he's got the heart to get through it.

"There are nine million reasons to run in the Pegasus. We think so much of the horse. He's a big, well-bred, strong horse. Right now he's held up just fine. He hasn't had a chance to string three races together in quite a while. We've just been extremely high on this horse. He's come back off of a long, long layoff and run two outstanding races. This is the kind of race that we thought we'd roll the dice in."

Gayle Benson, Greg Bensel and Stall could use a lift after a controversial 26-23 overtime defeat to the Los Angeles Rams cost the New Orleans Saints a trip to the Super Bowl in Atlanta. Benson is owner of G M B Racing and the Saints, as well as the NBA Pelicans, assuming command of the pro franchises upon the death of her husband, Tom, for whom Tom's d'Etat and other G M B horses are named. (D'Etat comes from the popular Mardi Gras parade Krewe d'Etat.)

Bensel is G M B general manager along with senior vice president of communications and broadcasting for the Saints and Pelicans. Stall's family is among the original season-ticket holders for the Saints, with Al having just turned 5 when the NFL awarded the city the franchise on All Saints Day 1966.

With Tom's D'Etat, there's always some measure of breath-holding with how he'll bounce out of a race or a workout. Before he ever ran, the youngster had a bone "flake" arthroscopically removed from an ankle. He won on his third attempt as a 3-year-old, a 1 1/8-mile maiden race by four lengths at Saratoga, then was off until the following March at Fair Grounds.

After allowance wins at Churchill Downs and Saratoga (by nine lengths), the plan was to take on eventual Horse of the Year Gun Runner in the Woodward Stakes (G1). That was derailed when a shadow line on an X-ray indicated the possible start of a condylar fracture. The decision was made to be proactive and put in a surgical screw. Tom's d'Etat didn't resume racing for 15 months, when  he won an off-the-turf allowance race at Churchill Downs by 7 1/4 lengths, which set him up for his 3 1/2-length score in the Dec. 22 Tenacious over stakes-winners Phat Man and Pioneer Spirit.

"He'd go win, win, wrench an ankle – win, win, wrench an ankle," Bensel said afterward. "He needed patience, and he's showing (the payoff) now as an older horse. He's a great horse, and Al has told us to 'stick by him, give us time and this horse is going to bear fruit for you.'"

The Tenacious was a big deal for G M B Racing and Stall, coming at their hometown track with a horse named for Tom Benson, a noted philanthropist who immortalized his hero status by keeping the Saints in New Orleans following Hurricane Katrina.

"It was so important," Gayle Benson said after the victory. "Just such a good day for him to win in honor of my husband… You just need to be patient, just give them a little time and it works out."

Rather than thinking about what might have been – they can leave that for the Saints – Tom d'Etat's team is just thankful for what is with the horse.

"We're grateful he's here," Stall said. "It's a tribute to the Benson camp for obviously being patient. And when you say patient, it's writing checks left, right and center. Our crew, I can't tell you how much has been put into this horse as far as therapy, this and that, everything. Yeah, everybody feels some sense of satisfaction that everything has come together and that he's come back and so far so good, very successful."
Tom d'Etat's talent is such that Stall thinks it could approach the rarified ability of Blame, Claiborne Farm's champion and stallion who handed the great mare Zenyatta her only defeat in the 2010 Breeders' Cup Classic (G1). Still, the trainer emphasizes there's a big difference between potential and accomplishments.
"He's obviously not going to do what Blame did, but he just does things with the greatest of ease," Stall said. "We just hope he can get up to that echelon… One thing about this horse, he's got speed, too. He's tactical. He should fit Gulfstream."
G M B Racing is only four years old. The stable provides a budget each year to their three trainers — all New Orleans products who race at the Fair Grounds in the winter. Stall, Dallas Stewart and Tom Amoss then can buy whatever they want out of their budget. In the case of Stall back in 2014, it was the Smart Strike colt that cost $330,000. Coincidentally with the trip to South Florida, Tom's d'Etat is out of the mare Julia Tuttle, named for the founder of Miami and the only female to launch a major American city.
Naming colts for Tom Benson has reaped rewards. The Stewart-trained Tom's Ready was a three-time graded-stakes winner in 2016 and '17 who ran second in the Louisiana Derby (G2) and 12th in the Kentucky Derby (G1). Oklahoma Derby (G3) winner Lone Sailor, trained by Amoss and named for a Navy award Benson won, lost the Louisiana Derby by a neck the day after Benson was buried, finished eighth in the Kentucky Derby and sixth in the Breeders' Cup Classic. Amoss also trained Mo Tom, a three-time stakes-winner who also was eighth in the Kentucky Derby.
"Mrs. Benson, what you read about her and hear about her is all true," Stall said. "She's been unbelievable with these horses, with this aspect of the Benson empire, so to speak. She loves the horses and couldn't be any more nice and generous to myself and my family. I was dragging way behind (Amoss and Stewart) for a while there. Hopefully, we've caught up in a big way."


[ad_2]

Article Source