[ad_1]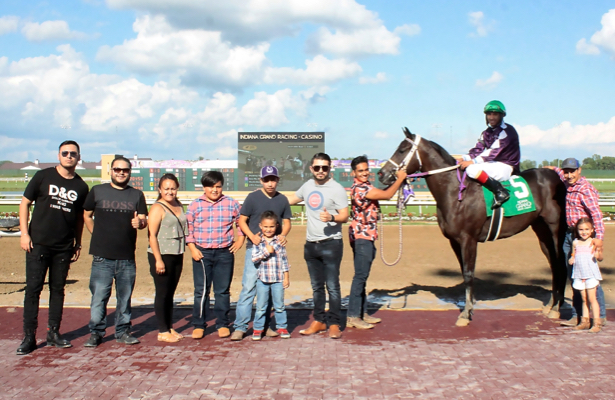 Photo: Linscott Photography

There was no doubt Victor Olivo would make a seamless transfer from jockey to trainer a few years ago, and Indiana Grand's fourth all-time leading Quarter Horse jockey already has a Quarter Horse track record to his credit as a trainer. His filly, Jess Kool Lady, established a new mark for 350 yards last year in a time of :17.384 seconds.
Now, he's expanding into Thoroughbred racing.
A native of Mexico, Olivo made the decision following the 2015 racing season that he would begin putting his talents into training Quarter Horses. After two seasons, he is now among the track's all-time top 25 Quarter Horse trainers with 15 wins and is off to another fast start in 2018.
Olivo has five starts with eight wins thus far, recording his most recent victory with Trickitty Track, ridden by Samuel Mendez, in a $13,000 two-year-old maiden race Wednesday, June 27. The Freighttrain B filly, owned by Francisco Javier Robles Jr., romped to an easy win which will set her up nicely for her next start.
"We have her staked in the futurity (Heartland Futurity) trials on July 7," said Olivo. "We have five babies this year and we are hoping four of them will be running in the futurity (Governor's Stake) this fall."
In all, Olivo has 11 Quarter Horses as his new location. One of his owners recently purchased Fun Day Farm located in Connersville, Ind. After creating his own track at his previous residence in Indiana, Olivo is set and established at his new facility.
"We just moved in this spring," said Olivo. "It's really nice training center. We have a half-mile training track, an indoor pool and arena and a five-horse starting gate. It is 80 acres total and we even grow our own hay."
With his background as a jockey for more than 15 years, Olivo still gets the opportunity to ride. His expertise as a jockey is paying off as a trainer.
"I break all of my babies and still gallop them," said Olivo. "I even breeze them and do all the gate work. When it's time to race, whoever is riding them will get on them one or two times, but prior to that, I am the one that gets on all of them."
Olivo has also added a new twist to his stable. He currently has three Thoroughbreds in his barn. After winning his first Thoroughbred race as a trainer last fall at Indiana Grand, he's already recorded a win this year with Shezaguy, ridden by Alberto Pusac and owned by Olivo's wife, Rosa.
"I'm really starting to like Thoroughbreds," said Olivo. "I've been in Quarter Horses my whole life, and I will always have some, but having Thoroughbreds, it seems easier to get in to race a couple times a month, plus, I can stay home year round. I plan to race at Turfway Park this next winter. I am now full-time in Indiana."
Shezaguy will most likely race again July 13. The four-year-old gelded son of Sangaree out of the quick race mare Maggie's Dream, a multiple stakes winner in Indiana, won the $34,000 maiden special weight by more than four lengths June 12 at Indiana Grand.
"I think we will have a lot of fun with him this year," added Olivo.


[ad_2]

Article Source