[ad_1]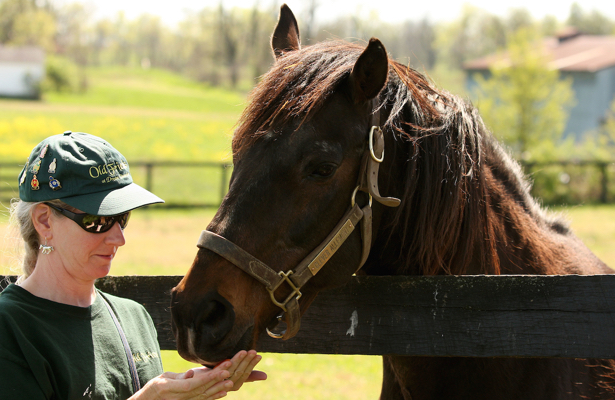 Following an announcement Thursday by Elizabeth Neil, who recognized herself as president of a new Old Friends Farm location in California, original founder Michael Blowen's operation released the following Friday:

Michael Blowen, founder and President of Old Friends, the Thoroughbred Retirement Facility based in Georgetown, Ky., wishes to clarify an unauthorized press release issued yesterday announcing the affiliate "Old Friends West."

According to Blowen, no official agreement has been made with Elizabeth Neil or Doug Freeland to open a West Coast-based Thoroughbred retirement facility.

Mr. Blowen has exchanged emails with Ms Neil and Mr. Freeland, and was interested in further discussion of the idea, however no formal proposal has been made and no steps taken to complete the venture as soon as March 2019.

"I believe an affiliate on the West Coast is an excellent idea. California is a huge racing hub, and Thoroughbreds bred and campaigned there deserve a dignified retirement in their home state where their fans are," said Blowen. "However, while we have been in very preliminary discussions, no final agreement has been met, and this press release is premature," he added. "At Old Friends we don't like to put the cart before the horse–in fact, we don't like to put anything before the horse!

"I have offered to consult on the formation of a West Coast farm, but I also explained to Mr. Freeland that many steps that would need to be taken before earning an affiliation with Old Friends," Blowen continued. "We would only get involved with an existing 501 (c) (3) non-profit organization, a visual inspection of the new facility and interviews with their planned farm personnel are mandatory, and, most importantly, a formal presentation would need to be made to the Old Friends Board of Directors and approval achieved.  At this time we have not moved forward with any of these phases.

"We also would have to consider our Accreditation with the Thoroughbred Aftercare Alliance," Blowen noted,"and any new facility would need to be approved.

Blowen did say the Mr Freeland is schedule to visit Old Friends in Georgetown next week. 

"This is not something that happens overnight," Blowen said. "We have painstakingly built our brand over the years, and we guard it fiercely. It has taken more than 15 years for Old Friends to reach its existing place in the aftercare community and we're very proud of our position."
The original press release issued by Neil is below:

Old Friends Farm, a popular retirement home for Thoroughbreds in Georgetown, Ky., has agreed to have a new affiliate on the West Coast.

Doug Freeland of Flagstone Group and Elizabeth Neil are developing a 95-acre parcel of land just outside of Temecula, Calif., to be used for both the retraining and retirement of Thoroughbred horses. Being aware of the great work that Michael Blowen of Kentucky's original Old Friends has done, Freeland and Neil approached him with the idea of being his West Coast affiliate.

In a move that is long overdue for the California racing industry, Old Friends Farm West, a 501(c)(3) non-profit, will be designed as a state-of-the-art facility for the retired equine athletes who have given so much to the sport.

Development of the land is expected to begin in March 2019, and the vast property will include a welcoming visitor's center and gift shop, a winery and café, a memorabilia museum, one indoor and two outdoor retraining rings, multiple barns, a teaching vet Center, and a beautiful event center for fundraising and charity events.

"The plan is to have a premier facility for the retraining and retirement of Thoroughbred horses, as well as a facility that allows the public to come and visit these former stars of the track, especially those who have raced here in California," said Neil, director and president of Old Friends Farm West.

The land will be developed by Freeland and the Flagstone Group, which will also serve as Chairman of the Property.

"Southern California has been good to me, and it's time to return the favor," Freeland said. "After arriving in San Diego as a young Navy pilot, and later becoming a real-estate developer, I've long been a fan of the Del Mar Turf Club.

"This is a non-profit venture that will be a win-win for our four-legged friends and a feel-good project for all of us. We are excited that our Kentucky friends are supporting us and encouraging this endeavor."

If you would like more information on Old Friends Farm West, or would like to become involved and/or make a tax-free contribution, please contact Elizabeth Neil at (805) 722-7345 or by email at Elizabethoffw@gmail.com.


[ad_2]

Article Source