[ad_1]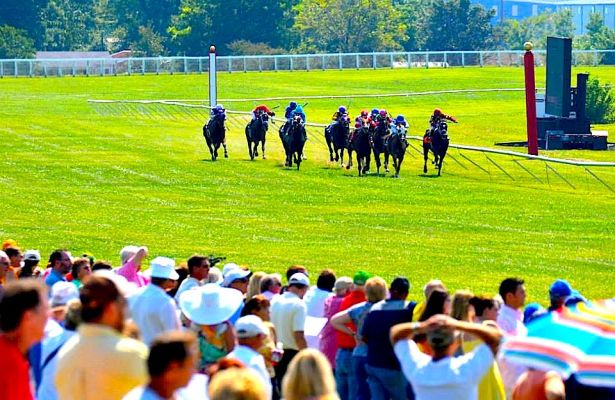 Photo: Kentucky Downs

You've no doubt heard, sensing an unmistakable pride in the pronouncement, that Kentucky Downs is unique, owing largely to its 1 5/16-mile turf course, which from the air must look like a giant pear. As uniqueness goes, that's impressive enough and guaranteed to send a flutter through the pastoral heart. But for horseplayers, here's another and perhaps more significant reason Kentucky Downs has become something unique in America's racing experience: If you had bet $2 to win on every favorite over the last four years, you would have made a 5.3-percent profit on your investment. And that's — well, that's simply extraordinary, unprecedented in recent memory, or any memory, for that matter. 
Yes, Kentucky Downs is unique because of its undulating, European-style turf course and its all-turf-all-the-time program and the blessed brevity of its schedule, which contributes to a carefree and festive atmosphere. All that's wonderful. But for the horseplayer, whether serious or casual, here's wonderful: large fields with outstanding horses, and plenty of betting opportunities with a low takeout. That summarizes the bettor's perspective of Kentucky Downs.
It has become the most bettor-friendly racetrack in America, a veritable bettor's paradise. Each of the last three years, the Horseplayers Association of America has named Kentucky Downs the No. 1 racetrack in America. And for valid, measurable reasons: Full fields, low takeouts and great racing. For the vast majority of races last year at Kentucky Downs — 74 percent of them, to be precise — 10 or more horses lined up in the starting gate. And the racing was very formful — that is, predictable. Favorites won 30 percent of the races, and yet the average payoff last year was $16.20. Over the last two years, the average winning payoff has been $15.10. In other words, you're not going to find a four-horse field here with a 2-5 favorite that renders all the betting options equally unappealing, a situation that seems to have become commonplace elsewhere. In fact, over the last two years, Kentucky Downs has seen only six odds-on favorites. Five of those, by the way, won.
This isn't to suggest, however, that you should adopt betting favorites as your strategy, but it does emphasize that at Kentucky Downs, in part because of the large fields, the odds are so attractive that even betting favorites can be part of a profitable investment strategy. The other factor in this oddity, of course, is the takeout. 
As you probably know, the takeout is the cost of betting: what's removed from the pool before the money is returned in the form of payoffs. A lower takeout means a higher payoff, reflected in better odds. And Kentucky Downs has become an industry leader in lowering the takeout. In fact, the track has among the lowest takeouts in the country (18.25 percent) for exactas and the lowest takeout overall. The Pick 5 offers a takeout of only 14 percent. Rolling doubles, Pick 3s, trifectas, superfectas, and the Hi-5 all have a 19-percent takeout, and straight win, place and show wagers have a 16-percent takeout. And this year, the track lowered its takeout on its Pick 4s from 19 to 14 percent, making the most bettor-friendly racetrack in America even friendlier.
With a lower takeout tantamount to lower prices, it's almost as if there's a sale every day at the racetrack. But there's a profound difference between your typical sale and betting at Kentucky Downs: Sales generally involve an effort to move products that might otherwise be unattractive. And during its brief but festive season, Kentucky Downs offers some of the most attractive and best racing in the country. Kentucky Downs, for example, offered $1.8 million in purses for four stakes on opening day, when Bound for Nowhere, a horse that had made his most recent start in the Diamond Jubilee Stakes at Royal Ascot (finishing third), won the Tourist Mile. This Saturday, Kentucky Downs' five stakes will offer a total of $2.7 million in purses. 
For more evidence that Kentucky Downs presents racing at its best, just look around. You might see Hall of Fame trainers such as Bill Mott, D. Wayne Lukas, Steve Asmussen, Neil Drysdale, "Shug" McGaughey and Jonathan Sheppard, who all have aimed some of their best horses and prospects at Kentucky Downs' races. Top stables, such as those of trainers Mark Casse, Todd Pletcher, Joe Sharp, Wesley Ward, Kenny McPeek, Mike Maker, Christophe Clement, Wayne Catalano, Tom Amoss and Brad Cox are represented. Quite simply, some of the very best racing in America is right here in Franklin, Ky. And it's by far the most lucrative racing in North America, with purses averaging $2 million a day. 
Many outstanding horses have raced at Kentucky Downs over the years. Yaqthan, Chorwon, Silverfoot, Rahystrada and Ioya Bigtime all have won the track's premier event, the Kentucky Turf Cup. Sovereign Award winner Never Retreat won the Kentucky Downs Ladies Turf Stakes in 2010 on her way to earning nearly $1.4 million. A year before she won the Breeders' Cup Distaff, One Dreamer won a stakes at Kentucky Downs. Morluc, G H's Pleasure, Battle Won and Silver Medallion all won stakes at Kentucky Downs. But the quality has soared in recent years, with such horses as Tourist, Oscar Nominated, Daddys Lil Darling, Try Your Luck and Lull all winning local stakes.
So, yes, Kentucky Downs is unique, with its giant pear of a turf course and all those zeroes dancing in a chorus line, but, even more, it's full-throated invitation to play the horses. That's what you need to keep in mind when you saunter up to the wickets to invest in the short-term futures market — that and the track's winning trends. Knowing the trends — something else that makes Kentucky Downs unique — can be the difference between winning and just having a good time.
Kentucky Downs has the longest homestretch of any turf course in America, more than a quarter-mile, and so Expectation might take a cursory look at the green expanse and insist that late-running horses are going to dominate. But Expectation's thinking can be and often is superficial, if not altogether flawed, and that's the case here. The stretch gradually slopes uphill, which can compromise the strength of the late-runners. At the same time, the run from the three-quarters-of-a-mile pole to the turn is largely downhill, which only emphasizes the strength of speed. And so in sprints, at distances less than a mile, speed is formidable. Last year, horses that led after the opening half-mile won 22.72 percent of the races run at distances less than one-mile, and that was in a year when an uncommon amount of rain pummeled the course. In 2016, front-runners won 38.88 percent of the sprints. And so over the last two years, speedsters have won 30 percent of such races.
The situation changes at a mile, or a mile and 70 yards, where the initial run on the backstretch is uphill. Only three winners led throughout at these distances last year, and all three were able to take advantage of a soporific pace. And over the last two years, only two horses have led from start to finish in two-turn races (at 1 5/16 and 1 1/2 miles). At these longer distances, the typical winner rallies from about five lengths back.
No matter the distance, though, the winner usually makes his decisive move in the expansive, sweeping turn that propels the horses into the stretch. In sprints, the broad turn allows speedsters to continue their momentum unchecked; and in longer races, it allows the late runners, even encourages them, to launch their bids early.
Here's another variable to consider: a horse's provenance. For this unique celebration of racing and wagering, for this treasure island of lucrative purses, horses converge on Kentucky Downs from all over the country, which, of course, can only add to the handicapping challenge. Again, though, knowing the trends becomes important because some sources have proven more productive, more successful and propitious, than others. Horses that had made their prior starts at Saratoga, Ellis Park and Arlington Park have performed especially well.
Experience also has proven to be a significant variable. Quite simply, Kentucky Downs rewards experience. Over the last two years, only three horses have made a winning debut here, and two of those were 3-year-olds. In other words, a first-time starter should possess considerable talent to succeed over this course. 
The importance of experience also applies to the jockeys. Racing here isn't a simple matter of running in circles, left turn after left turn. Kentucky Downs' unique turf course makes unusual demands and presents rare challenges that often require localized experience to handle. So who are the experienced jockeys who know the course, its demands and undulations and, most importantly, its keys to the winner's circle? Well, Florent Geroux and Julien Leparoux have topped the standings the last four years, which shouldn't surprise since they're from France and Kentucky Downs' course is more like a European course than any other in North America. Brian Hernandez, though, is the all-time leader. Active riders among the all-time leaders also include Calvin Borel, Robby Albarado, James Graham and Corey Lanerie.
No other track is like it. No other horseplaying experience is like it; nothing's even close. Kentucky Downs is unique. But winning here isn't.


[ad_2]

Article Source