[ad_1]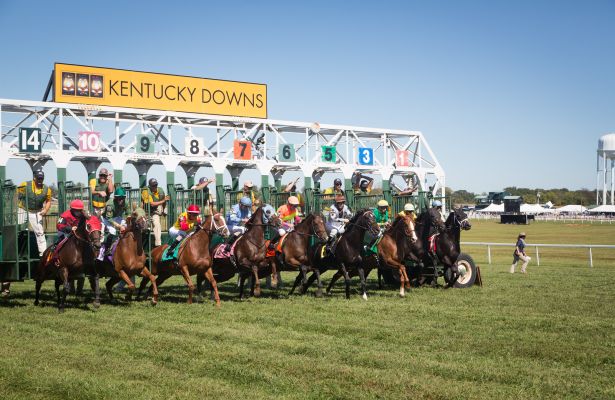 Photo: EquiSport Photos

Winchell and Falcone have entered an agreement to buy majority interest in Kentucky Downs, contingent on KHRC approval. The pending sale was announced earlier this week and is expected to close in early 2019. Both men have extensive background in casino gaming, with Winchell a prominent racehorse owner.
"We came into the process obviously very late," Winchell said. "We were really trying to persuade people to give us more time. This decision, we felt, was very important and needed more time, the processing to be more well thought out. We're obviously very disappointed in the result. We're happy and excited about what's going on at Kentucky Downs and looking forward to the future."
"Listen, our focus is going to be to make Kentucky Downs a great racing facility, and we look forward to having more conversations about that coming in the future," Falcone said.
Both men stressed that Kentucky Downs will go ahead with the major expansion of its property in Franklin, Ky., that was previously announced — and that, if anything, the expansion will be even bigger.
"I think this decision is going to require us to re-evaluate what we're going to do going forward," Falcone said.
"Now we know we have competition" in the market, Winchell said. "We're going to gear up. We're doing what we do best. We're very competitive when it comes to gaming, and now we've got to do that apparently in the Kentucky Downs arena. It's a thought process of how we deal with the competition, and we're going to do that the way we always do."
Before the vote, each applicant was given five minutes to address the commission, followed by questioning from the KHRC members. During Kentucky Downs' presentation, Winchell said: "The new Kentucky Downs is not going to be anything near what the old Kentucky Downs is, top to bottom improvements all the way around. This is going to drive HHR immensely. I can't stress how much I'm invested in horse racing, committed to doing the right thing. When it comes to the Oak Grove application, all we want is more time so we can come back and give you guys a comprehensive, well-thought-out proposal. We want you to have all the facts to make the right decision."
Winchell cautioned that awarding the license to another applicant, bringing competition into Kentucky Downs' natural market, likely could lead to a pricing competition on the takeout for HHR that would cut into the purse money raised for the state.
"What you guys do today will have a lasting impact on purses and the KTDF (Kentucky Thoroughbred Development Fund)," Winchell said. "…. The real question here is not what is going to happen to Kentucky Downs, but what's going to happen to the purse account and breeders' funds." 
In response to a question whether current track president Corey Johnsen will have a continued role with Kentucky Downs, Winchell told the commissioners that Falcone and he will be the "decision-makers going forward for every aspect of Kentucky Downs. Corey has done a great job. We want to retain him as a consultant, because he does have a lot of knowledge."
Johnsen said most of the current owners, including himself, are staying in for a piece of the track.


[ad_2]

Article Source